The newest version of Google Chrome now has an option to print any webpage using Cloud Print and multiple profile support for users on one computer to maintain separate settings. The additions are available in version 16 for Windows, Mac and Linux users. Here's a quick look at what's new to Chrome 16.
Print to the cloud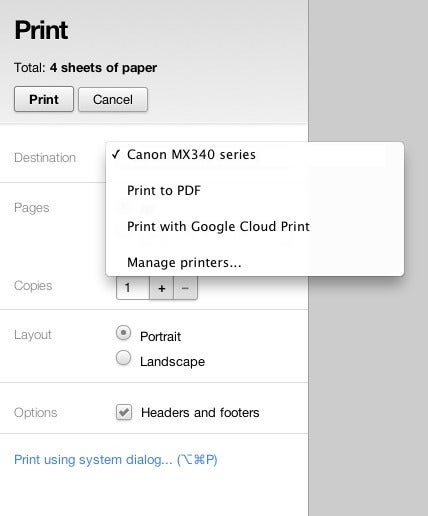 Google Cloud Print, which launched in January, lets you print to your home or office printer from almost any Web-enabled device. But using Cloud Print was restricted to webpages with a special Cloud Print button, specific Google apps such as Docs or desktop apps such as Cloud Printer for Mac. Now, any user can use Chrome to print to a Cloud Print-ready printer or a computer acting as a Cloud Print server.
To use Cloud Print select Print from Chrome's menu options underneath the wrench icon. This will take you to a print preview page where you can select "Print with Google Cloud Print" from the "Destination" dropdown menu on the left-hand side of the screen. Then select "Print" at the top of the print dialog when you're ready to put ink to paper.
Multiple profiles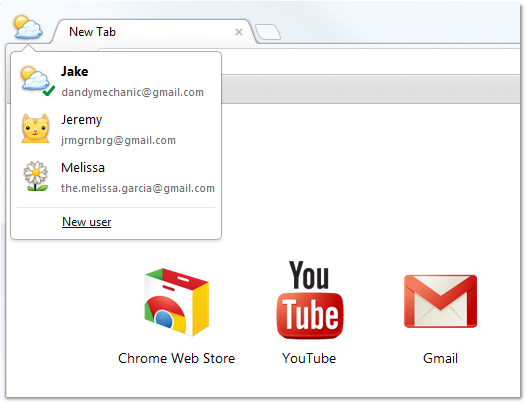 Multiple profiles first appeared in Chrome's beta channel in November as way for multiple users to keep their bookmarks, Web apps and other settings separate. This can be a handy feature if you have more than one user clamoring to use a household PC, but you can't be bothered to switch user profiles using your PC's operating system.
To get started, click on Chrome's wrench icon and select "Preferences" to open the browser's settings page in a new tab. Then, on the left-hand side, click on "Personal Stuff." Alternatively, just type in "chrome://settings/personal" in an empty browser tab.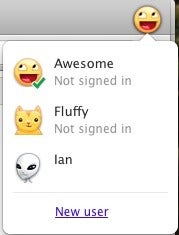 The second item from the top should be called "Users." Select "Add new user." A new browser window will open with a blank profile using a generic name such as "Fluffy" or "Awesome" and one of Chrome's 26 user avatars. The active user's avatar will appear in the upper-right corner of the Chrome browser in Mac and on the left-hand side for Windows. You can edit each profile's username and avatar under "chrome://settings/personal."
Each user can also sign in separately to their Google account to sync Chrome settings stored online. This is a handy feature if you want access to your Chrome settings on a PC that isn't yours. But as my colleague Jared Newman pointed out in November, just make sure that you erase your user profile on any computers that aren't yours. Chrome profiles are not secure, there is no password protection so anyone using the same PC will have access to your browser settings.
Connect with Ian Paul (@ianpaul ) and Today@PCWorld on Twitter for the latest tech news and analysis.