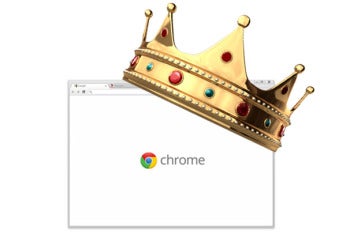 Google Chrome 15 is the most popular web browser in the world overtaking Internet Explorer 8, according to web analytics firm StatCounter. Chrome 15 just barely beat out its Microsoft rival for the first time between November 21 and 27 with 23.63 percent of the global browser market share compared to IE8's 23.5 percent. Mozilla's Firefox 8 trailed behind at a distant third with 12.12 percent of worldwide usage during the same time period.
Chrome 15 Continues Global Surge
Chrome 15's worldwide popularity doesn't appear to be slowing since stepping ahead of IE8 in late November. Between the week of December 5 and 11 (StatCounter's most recent numbers), Chrome 15 not only beat out IE8 overall but was also more popular during the regular workday. "Chrome 14 and 15 have been overtaking IE8 at weekends since the beginning of October," StatCounter CEO Aodhan Cullen said in a statement announcing the Chrome 15 findings. "It looks as if people [favored] Chrome on weekends at home, but office commercial use has now caught up."
StatCounter's latest weekly count (December 5-11) has Chrome 15 at 24.55 percent of global market share and IE8 at 22.16 percent.
In the U.S., IE8 is still more popular than Chrome 15, according to StatCounter. IE8 recently accounted for 27 percent of the American browser market between December 5 and 11, compared to Chrome 15's 18.1 percent.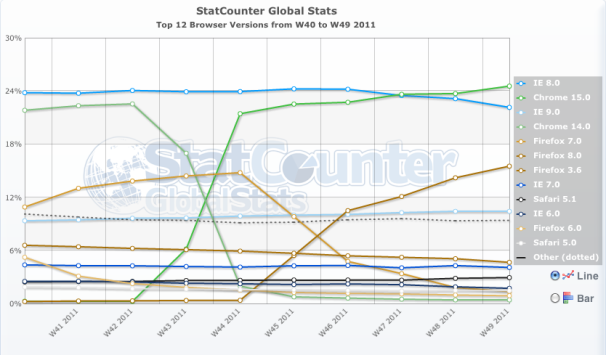 IE Still Bests Chrome By Brand
While Chrome 15 may be gaining steam worldwide, Internet Explorer is still more popular overall when you count all browser version numbers in use such as IE 6, 7, 8, 9 and Chrome 14 and 15. During the period between November 21 and 27, IE owned 40.09 percent worldwide usage while Chrome accounted for 26.31 percent, followed by Firefox at 25.07 percent. Earlier in December, StatCounter reported that Chrome beat out Firefox to become the second most popular browser in the world.
Connect with Ian Paul (@ianpaul ) and Today@PCWorld on Twitter for the latest tech news and analysis.