Almost exactly two months ago I wrote about KDE, the free desktop environment for Linux that's renowned for its polish and ease of use.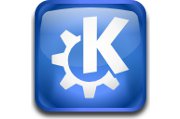 At the time, a version of the open source software called Plasma Active One had just been launched for tablets and other mobile devices, but it was compatible with only a limited range of Intel-based devices.
On Wednesday, however, the KDE project announced the arrival of the next iteration of the software, Plasma Active Two, with significantly improved performance, a raft of new features, and compatibility with many more mobile devices.
If you use a tablet and want to see the beauty of KDE on your device, this could be a good time to give it a look. The video below offers a small taste of what you'll find.
No Mere Application Launcher
Even in its earliest versions, Plasma Active has aimed to be more than just an application launcher. When users turn on their tablet, instead of the traditional grid of applications they see an "Activities" view showing their current project, task, or idea.
That Activities focus lets you collect all the documents, people, websites, media, and widgets related to a topic in one place, building personalized and interactive views of your life.
Considerable testing of Plasma Active has gone on since the release of the first version two months ago, however, and numerous improvements have been made to that original concept.
Touch-Friendly Settings
"Interaction was improved for nearly all of the included apps, from the log-out interface to the image browser to the on-screen keyboard. Even the screen locker was refreshed, and got additional security enhancements in the process," the KDE project explains.
Usability tweaks were made throughout the software, and the presentation of documents, applications, widgets, contacts, images, and other resources was also harmonized for a more consistent experience.
New font settings and power management defaults, meanwhile, provide a better out-of-box experience, the project says, and a touch-friendly settings application now makes adjusting date, time, and web browsing preferences easier and more intuitive.
'Semantic Desktop' Technology
Then there's the new Recommendations feature, which uses "semantic desktop" technology to let Plasma Active learn as you use your device and then make recommendations as to additional content, websites, and applications that may be of interest given what you're working on at the moment. The screenshot below offers a snapshot of that new feature.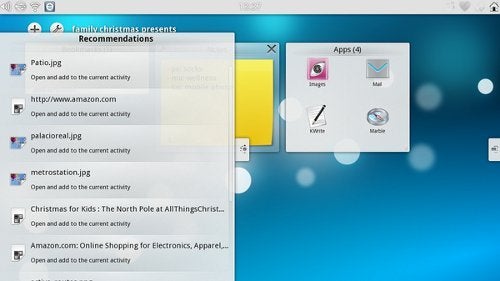 Performance, meanwhile, is up to 10 times faster than Plasma Active One was, the project adds. Boot times have also been significantly reduced, it says, and the on-screen keyboard has been made more responsive.
Overall, the project aims to bring a smooth Plasma Active experience to devices with as little as 256MB of RAM and sub-1GHz processors.
Preinstalled Tablets on the Way
Plasma Active Two runs on a much wider variety of devices than its predecessor did, including those based on both Intel and ARM architectures. Specific examples include the ExoPC, BeagleBoard, Archos G9 tablet, and NVidia Tegra 2 devices.
Detailed information on installing it are available on the Plasma Active wiki, while download links are on the KDE community site.
It apparently won't be long, either, before you can get tablets with the interface preinstalled–the project says at least two such announcements will be made in the next month.
Future development, meanwhile, will likely expand the scope of the project to include set-top boxes and smartphones.
KDE is one of my favorite environments on the desktop, so I'm looking forward to watching its progress in the mobile world. If you use a tablet and decide to take KDE for a spin, please leave your impressions in the comments.