GeekTech has seen its share of geeky and modified homes before, but I personally think Kenton Varda's ultimate LAN-party pad is the best yet. Let's just read off the his checklist: 12 gaming computer stations, one 55-inch and one 59-inch HDTV, and a selection of gaming consoles connected to each HDTV. Hells yeah!
Unlike the LAN parties of yore (before broadband-internet and online multiplayer was widespread), this house keeps all the computers and wires hidden. In fact, it just looks like a regular well designed and spacious home.
The 12 computer stations are fitted inside fold-out enclosures and split into two rooms with six stations each for team play (no cheating). The enclosures only contain the monitor, keyboard, and mouse, while the real PC units are set up on a rack a back room. Their specs are as follows:
CPU: Intel Core i5-2500
GPU: MSI N560GTX (nVidia GeForce 560)
Motherboard: MSI P67A-C43 (Intel P67 chipset)
RAM: 8GB (2x4GB DDR3-1333)
Monitor: ASUS VE278Q (27″ 1080p)
All the computers are networked together–thus the local area network–and connect to a server that shares a master hard drive. Instead of updating each of the 12-machines individually, Kenton, a software engineer at Google, just has to update the software on the master hard drive, and the individual PCs "load software directly from the master image over the network," according to Kenton.
In addition to the gaming PCs, Kenton has two big flat-screen HDTVs set up with a selection of gaming consoles, but he admits they mostly used to watch pro Starcraft matches.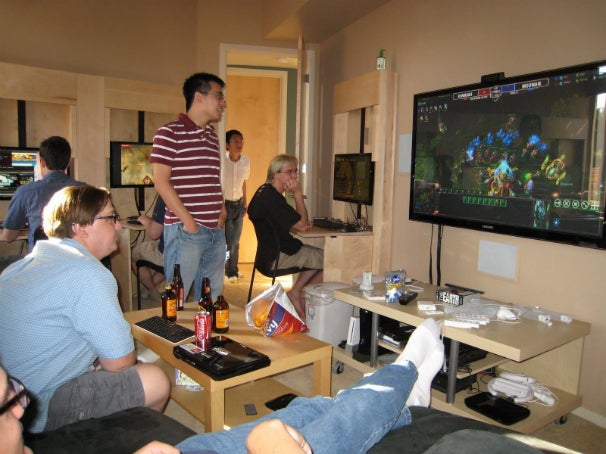 Go check out Kenton's blog for more photos and details
Kenton makes a note that he is not rich or loaded; he is just a hard worker who was fortunate enough to work for Google and was able to save up money. Varda also has a few more home hacking ideas in mind, including wiring his whole house with speakers and porting Stepmania to his Google TV so he can DDR whenever he wants.
[Kenton's Weekend Projects (Thanks, Christina)]
Like this? You might also enjoy…
Get more GeekTech: Twitter – Facebook – RSS | Tip us off