Twitter announced an update to its mobile client last week that may render third-party, multi-account Twitter clients obsolete.
Third-party Twitter mobile apps have always been a few steps ahead of Twitter when it came to ease of use and features, but that will no longer be the case.
Twitter will be rolling out the same changes, now live on Twitter's Android and iPhone apps, to its online service over the next few weeks–so add it to your smartphone to preview what the new Twitter will look like in your PC browser.
To start, managing multiple Twitter accounts is a more seamless experience with the new mobile Twitter. If you have an iPhone, swipe left to switch accounts. If you're on Android, hit your Menu button, and choose "Switch Accounts".
More 'Deets' on Your Tweets
Now when you tap a tweet to open it, up pops a screen with photos, videos, and statistics on the tweet, such as conversations around it, how many times it's been retweeted, and how many favorites it's received. This will help you vet if a tweet is worth your time–and will encourage the addition of photos and videos to tweets, as people are more likely to open tweets with visuals. Including pictures and videos will become more important when this feature is extended to the browser interface.
To get to the top of each tab, now all you have to do is hit the tab's home icon, instead of endlessly scrolling through miles of tweets.
A subtle blue glow now illuminates a tab with new items in it, and the app makes cool sliding and popping noises when you are scrolling and loading up new tweets. It's a small thing, but it makes it more fun to use.
Endangered: Third-Party Twitter Clients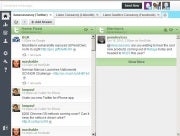 If you are only using Hootsuite or similar tools to manage Twitter and Facebook accounts, you'll want to switch to Twitter's new mobile client. It's more usable, and easier to navigate than the current mobile version of Hootsuite. If you still want to cross-post to additional social media sites on the go, like LinkedIn, you'll want to keep Hootsuite or similar clients installed. Otherwise, this mobile version of Twitter is too cool to ignore.
If you aren't yet using Twitter to cross-post tweets to your company Facebook page, check out Twitter's how-to here; scroll to the bottom to "To Connect your Twitter Account to a Facebook Page".
If this is a taste of what the new Twitter will look like, third-party desktop apps could be swept aside by Twitter's own technology. And Twitter needs to entice users to use its own client so it can land advertisers. This redesign is very likely to help accomplish that goal. If Twitter bolsters the security of its mobile client with the technology it just purchased from Whisper, it will become an unbeatable mobile application.
Angela West dreams of opening a Fallout-themed pub featuring wait staff with Pip-Boys. She's written for big insurance companies, small wildlife control businesses, gourmet food chains, and more. Follow her on Twitter at @angelawest and Facebook.