Dell has confirmed it will no longer make consumer netbooks. Instead, the company will focus on developing higher-end, premium "thin and powerful" laptops, following the industry's shift to Ultrabooks.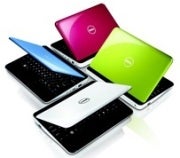 Dell's 10-inch Mini netbooks have disappeared from sale on Dell.com, Liliputing spotted recently. Instead, when you're searching for a netbook, Dell might offer you the 14-inch Inspiron 14R or the older 11-inch Inspiron 11z.
With the Inspiron 11z currently going for $399.99 in a limited clearance sale and the Inspiron 14R starting at $499.99, this means a new laptop from Dell will set you back a bit more than the $300 or so a Mini 10 previously cost. You also lose a bit of the portability that netbooks offer.
If you really must have a Dell netbook and don't care about price, Latitude netbooks for business users are still available starting at a whopping $469 price. Dell confirmed to The Verge that the company will also still offer the Inspiron Duo netbook/tablet hybrid.
Otherwise, Dell's Marketing Director Alison Gardner told the tech blog that "Thin and powerful is where it is at for us."
This is hardly a big surprise to anyone, with a flood of ultrathin and powerful Ultrabooks expected to launch next month at CES, Acer betting big on Ultrabooks for next year, and Dell also expected to join the Ultrabook party in 2012.
Netbooks may have had a good run in the last two years, but the cheap laptops have been dying a slow death thanks to tablets like the iPad and now the next class of lightweight laptops, the Ultrabook. The ultraportable is dead. Long live the ultraportable.
Follow Melanie Pinola (@melaniepinola) and Today@PCWorld on Twitter.