At a Glance
Expert's Rating
Pros
Slim, curved design
4G/LTE is very fast
Ice Cream Sandwich is a real treat
Cons
No expandable memory
No Google Wallet support
Camera is just okay
Our Verdict
The best Android phone to date, the Galaxy Nexus dazzles with its curved display, sleek design, fast performance, and, of course, the Ice Cream Sandwich update.
We've been clamoring to get our hands on the Galaxy Nexus ever since its unveiling in Hong Kong back in October. Finally, at long last, the U.S. version of the Galaxy Nexus has landed in our office. So is the Galaxy Nexus, the first phone to run Android Ice Cream Sandwich, everything we hoped it would be? Mostly, yes. The Galaxy Nexus ($300 with a two-year contract, as of December 16, 2011) impresses with lightning-fast performance, strong data speeds, a thin design, and, of course, all of that Ice Cream Sandwich goodness. It isn't perfect, however. The camera isn't outstanding, and the handset has no expandable memory slot. But as it stands, the Galaxy Nexus is the best Android phone currently available.
Design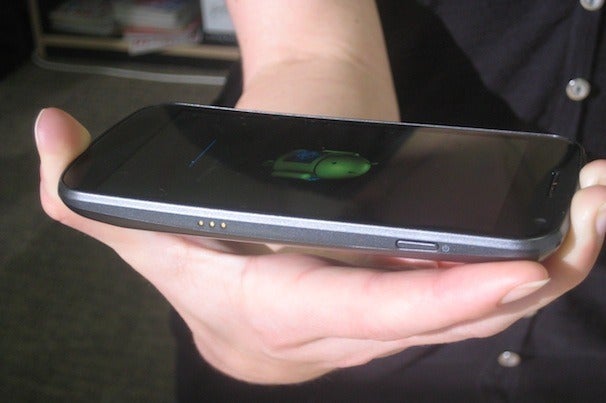 The Galaxy Nexus is one fine-lookin' piece of hardware. The glossy display, piano-black bezel, and textured back are all standard Samsung design elements. But unlike other Samsung Galaxy phones I've reviewed, the Galaxy Nexus feels high quality. At 5.1 ounces, it has a nice substantial weight to it without being too heavy. As you can see from the photos, the Galaxy Nexus has a subtle curve, which nicely contours to the hand. If you have small hands like me, however, you might find the Galaxy Nexus a bit large (it measures 5.33 by 2.67 by 0.37 inches).
The Galaxy Nexus has no physical hardware keys on its face. Instead, the touch-sensitive Back, Home, and Search keys are built into the display as soft keys.
Super AMOLED Display (No Plus)
The Galaxy Nexus has a high-def Super AMOLED display–not to be confused with the Super AMOLED Plus technology found in the Samsung Galaxy S II line of phones. This 1280-by-720-pixel display is actually based on a PenTile pixel structure in which pixels share subpixels. Engadget points out that the Galaxy S II phones have full RGB displays in which the pixels have their own subpixels. This means that the Galaxy Nexus has lower overall subpixel density, reduced sharpness, and degraded color accuracy than the Galaxy S II. But according to site FlatpanelsHD, the Galaxy Nexus has 315 pixels per inch, which is slightly lower than the iPhone 4/4S at 326 ppi.
To be quite honest, the only quality difference I saw between the Galaxy S II, the Galaxy Nexus, and the iPhone 4S was in color accuracy. Colors on the Galaxy Nexus had a slight yellowish tint, mainly in pictures or websites with a white background. Otherwise, blacks looked deep, while fonts and details appeared sharp. Unless you're crazy about pixel density or have insanely sharp eyes, you probably won't notice the slight display downgrade.
The display is a roomy 4.65 inches, but really only 4 inches of that real estate is usable. The remaining 0.65-inch space is occupied by a customizable shortcut bar that appears at the bottom of the home screens as well as some other internal screens. Even so, the screen feels plenty spacious for all of your gaming, video, and other multimedia desires.
Ice Cream Sandwich: Simply Sweet
We've written extensively on Ice Cream Sandwich, and will be doing much more in-depth coverage in the next few days. For this review, I'll focus on how Ice Cream Sandwich performs on the Galaxy Nexus.
If you're familiar with Android Honeycomb on tablets, you'll find a few familiar features in Ice Cream Sandwich. As in Honeycomb, widgets in Ice Cream Sandwich are now resizable on the home screen. You'll also find a dedicated on-screen Recent Apps button for seeing all of your open apps; just as on Android tablets, it displays a scrollable list of running apps with thumbnail images. Flicking through and switching between apps is not as speedy as I would like it to be, however–I encountered a noticeable delay when going from one app to another.
You've probably heard a lot of buzz about the ability to unlock your phone with your face. The front-facing camera snaps a picture of you and then uses facial recognition software the next time you unlock your phone. It's cool, most definitely, but it's not the most secure way of protecting your phone. As Google warns, somebody who looks similar to you can unlock your phone with their face. Nevertheless, face unlock works well, and it is a pretty neat–although somewhat gimmicky–feature.
The Android software keyboard in Ice Cream Sandwich has larger, more square keys so it is easier to type on (though I still made a few errors here and there). You now have an option to verbally dictate your text, as well, though I didn't always find it accurate. For example, "This is a test of the auto-dictate feature" translated into "Types of the otter dictate feature."
Developers will delight in the dedicated "Developer options," which let you access tools such as a CPU usage meter and controls for touchscreen feedback and the background process limit. It is features like this that truly make Android a standout operating system. There's something for everyone.
The Core Apps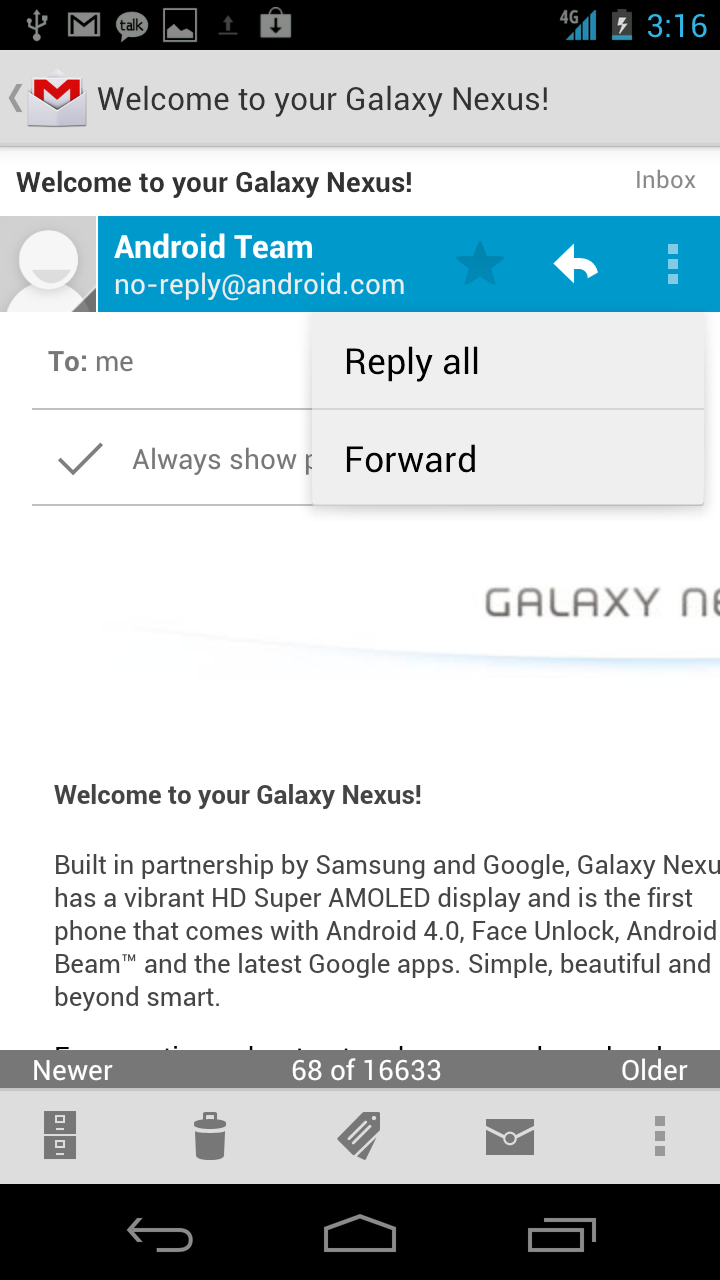 Gmail gets a face-lift, with a new context-sensitive Action Bar at the bottom of the screen. The bar changes depending on where in the app you are. For example, when you're looking at an email message, you see options to archive it, trash it, label it, or mark it as unread. When you're viewing your inbox, the bar changes to display options for composing new messages. Adding attachments from your gallery or other folders is now much easier as well. If you're a heavy Gmail user like me, you'll really appreciate these updates.
The browser in Ice Cream Sandwich is just about as close as you can get to a desktop one. You can now set the browser to request full desktop versions of sites, not the lesser mobile versions. You can also sync your bookmarks from the desktop Chrome browser to the Browser app in Ice Cream Sandwich. Google has added support for tabbed browsing, and you can quickly view which tabs are open, each with a live preview of that page.
Google Calendar pretty much runs my life, so I was pleased to see a cleaner, easier-to-read version of it in Ice Cream Sandwich. I also appreciate the fact that you can pinch-to-zoom in on a particular calendar event to see more information about it; previously you had to tap on the calendar event, and it would open a new window. Like all of the other core-apps updates, Google has made everything in the Calendar more efficient and easier to use.
Unfortunately, Google Wallet is not supported on the Galaxy Nexus–despite the fact that the phone's hardware supports NFC.
Performance
The Galaxy Nexus is powered by a dual-core 1.2GHz Texas Instruments OMAP 4460 processor, with 1GB of RAM and 16GB or 32GB of storage. The Galaxy Nexus scored well on all of our benchmark tests (which includes the Sunspider JavaScript benchmark and the GLBenchmark). Interestingly, the Nexus's overall score was about the same as the mark of the Motorola Droid Razr, which has a 1.2GHz TI OMAP 4430 processor. The Samsung Galaxy S II for T-Mobile scored slightly higher overall than the Galaxy Nexus.
We also ran the Qualcomm-developed Vellamo benchmarking app, on which the Galaxy Nexus earned a score of 803. (The Droid Razr got a score of 1040, which put it ahead of the Samsung Galaxy S II.) This score puts the Galaxy Nexus ahead of the Samsung Skyrocket and the HTC EVO 3D. Because Vellamo was made by a competitor to Texas Instruments, we tend to take these results with a grain of salt.
We're lucky enough to get very strong 4G LTE coverage here in San Francisco. In my tests using the FCC-approved Ookla Speedtest app, the Galaxy Nexus achieved download speeds ranging from 6.69 to 12.11 megabits per second and upload speeds of 21.18 mbps. In other words, the Galaxy Nexus is blazingly fast.
Call quality over Verizon's network in San Francisco was consistently good. I had great coverage everywhere I went in the city. My friends and family sounded natural, with an ample amount of volume. One of my friends remarked that my voice sounded "hollow," but other people I spoke with were pleased with the quality.
We have not yet finished our formal battery life tests, but the Galaxy Nexus survived through a whole day of heavy use before I needed to charge it again.
Camera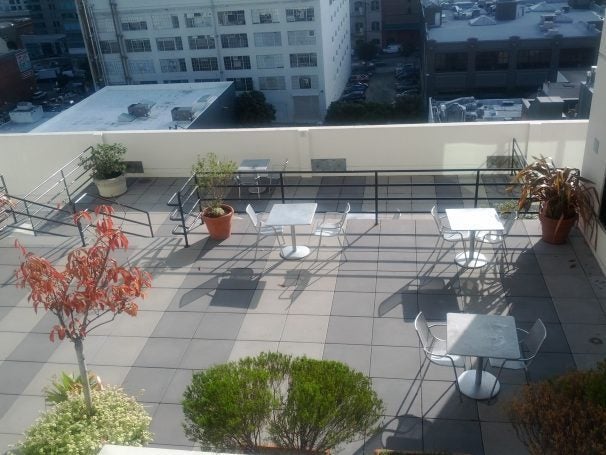 At the Hong Kong unveiling, Google bragged that the camera on the Galaxy Nexus has zero shutter lag. In my hands-on tests, I found these claims to be accurate: It processes your photo almost instantly after you press the shutter key. Another nice feature is the ability to access the camera from the lock screen rather than having to unlock and then dig through menus.
Unfortunately, the camera just isn't of the same caliber as the rest of the phone. The photos I shot with the Galaxy Nexus's 5-megapixel camera
looked a bit flat. Colors seemed a touch washed out, and details were a little fuzzy.
But even if your photos don't come out perfect, Ice Cream Sandwich has your back with its suite of photo-editing tools. You get an array of filters (like your very own Hipstamatic app), the capability to adjust the image angle, red-eye removal, cropping functions, and more. Any edits you make to a photo will create a copy, in case you ever want to revert to the original.
In camcorder mode, you can record video in up to 1080p. Video in my tests looked quite good. The camera handles motion well, with no artifacting or pixelation. Check out the test clip below.
Bottom Line
The Samsung Galaxy Nexus is a superb phone, and a great vehicle for introducing Android Ice Cream Sandwich to the world. Android has clearly come a long way, and the tweaks and updates Google has implemented throughout the operating system make a huge difference in efficiency and ease of use. Right now, the Galaxy Nexus is the best Android phone you can buy.