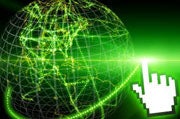 A plan by the custodians of the Internet that will dramatically increase the number of domains on the Net would make consumers more vulnerable to online fraud and impede the ability of law enforcement to bring cyber scammers to justice, according to a federal consumer watchdog agency.
The expansion of generic top-level domains (gTLDs)–the portion of a Web address to the right of the dot, such as .com, .net, .xxx, etc.–planned by the Internet Corporation for Assigned Names and Numbers (ICANN) could dramatically increase the opportunity for consumer fraud and make it easier for scam artists to manipulate the system to avoid being detected by law enforcement authorities, the Federal Trade Commission (FTC) said in a letter to ICANN.
"A rapid, exponential expansion of gTLDs has the potential to magnify both the abuse of the domain name system and the corresponding challenges we encounter in tracking down Internet fraudsters," the FTC letter declared.
The FTC added that the increase in website names that could be registered in the new gTLDs would put "infinite opportunities" at the fingertips of scam artists, who take advantage of consumers through tactics such as using misspelled names to create copycat websites.
Applications for New Domain Names Accepted Starting January 12
ICANN is slated to start accepting applications for the new generic domains on January 12. Before it approves any of those applications, the FTC is urging the Internet's governing body to take these steps to protect consumers:
Implement the new program as a pilot program and substantially reduce the number of generic top-level domains that are introduced as a result of the first application round;
Strengthen ICANN's contractual compliance program, in particular by hiring additional compliance staff;
Develop a new ongoing program to monitor consumer issues that arise during the first round of implementing the new gTLD program;
Assess each new proposed generic top-level domain's risk of consumer harm as part of the evaluation and approval process; and
Improve the accuracy of Whois data, which is used to identify who owns a domain, including imposing a registrant verification requirement.
"If ICANN fails to address these issues responsibly, the introduction of new gTLDs could pose a significant threat to consumers and undermine consumer confidence in the Internet," the FTC warned in its letter.
Background
The new domain name scheme was announced by ICANN in June. It allows anyone to propose anything as a domain suffix, including suffixes in non-Latin alphabets, such as Arabic and Japanese. To apply for a suffix, though, an applicant has to pony up a non-refundable fee of $185,000.
Some critics of the plan argue it will bring chaos to the Internet–and with good reason. "As it stands right now, the vast majority of Web surfers barely understand the structure of a domain; most non-techie people just assume everything is dot-com," wrote JR Raphael in PC World. "What's it going to be like when everyone's suddenly faced with–for a hypothetical example–apple.com, buy.apple, apple.buy, and apple.store? It's going to be a mess."
Follow freelance technology writer John P. Mello Jr. and Today@PCWorld on Twitter.