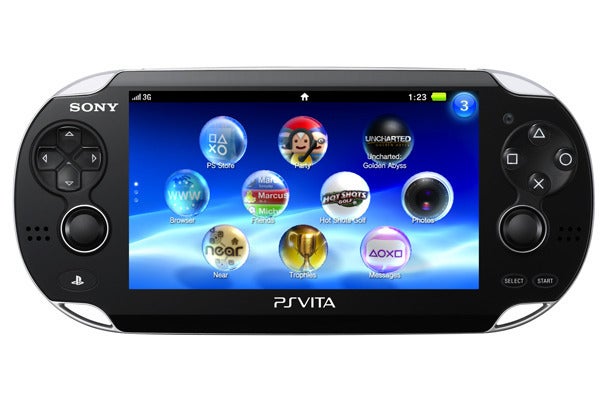 Sony's hotly anticipated handheld console, the PlayStation Vita, may not be launching in the United States and Europe until February 22, 2012, but it's officially out in Japan.
PlayStation Vita Launch Info
The PlayStation Vita features a quad-core processor, a multi-touch OLED screen, a rear touch panel, front- and rear-facing cameras, the Sixaxis motion-sensing system, Wi-Fi, and optional 3G.
Just hours before the launch of the handheld game console in Japan, Sony also released a firmware upgrade for the Vita, as well as the PlayStation Vita User's Guide Website, which is an online user manual (in English). If you're looking to purchase a Vita when it goes on sale in the U.S. and Europe next February, the User's Guide Website features useful information on basic Vita operation, games, and the PlayStation Network.
The inaugural firmware update, Software Update 1.50, will be ready to go as soon as users power up their new Vita. Among other things, the update is expected to enhance security features. Detailed instructions (in Japanese) on how to update your Vita via Wi-Fi, PS3 network, PC network, or Vita card data are available on Sony Japan's Website.
Though the Vita is hotly anticipated by many hardcore gamers, the rise of smartphone gaming has many pundits wondering if dedicated portable gaming systems like the Vita can succeed in a world where smartphones are becoming handheld gaming consoles, and handheld gaming consoles are becoming obsolete. Nintendo saw the effects of this trend first-hand earlier this year during the launch of the Nintendo 3DS, which received a price cut just six months after launching. While our brief hands-on with the PlayStation Vita during E3 2011 left us feeling optimistic about the hardware, only time will tell if gamers are still willing to pay for premium portable games.
But Andrew House, the head of Sony's game division, believes that the PlayStation Vita can make it–even though it's about 70 percent more expensive than the Nintendo 3DS in Japan. One of the main reasons House expects the Vita to be more successful than the 3DS is because of the game selection–the Vita's launch is accompanied by about two dozen titles, including Uncharted: Golden Abyss and LittleBigPlanet. Several prominent third-party developers are expected to release Playstation Vita games in February, including Vita versions of Capcom's Ultimate Marvel Vs. Capcom and EA Sports' FIFA 12. According to House, the Vita's primary selling point is "being able to give people a sense of value for money."
As far as the launch itself goes, GameZone reports (off of Japanese Man Tan Web) that Sony added an additional 200,000 Vita units to be shipped due to "massive pre-order demands." Sony initially planned a shipment of 500,000 units, so this means that the company may have shipped as many as 700,000 units. We'll keep you updated if anything untoward happens during the Japanese launch.
Follow Sarah on Twitter, Facebook, or Google+.
Like this? You might also enjoy…