The U.S. National Transportation Safety Board's recommendation that all states ban drivers from using portable electronic devices — including cell phones with hands-free kits — doesn't go far enough.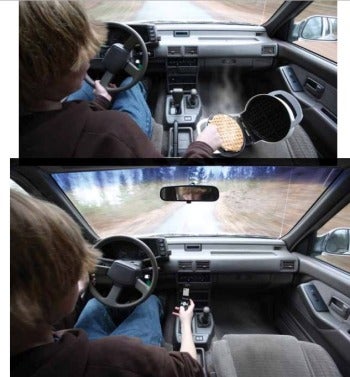 Sure, states will balk amid strong resistance from the industry, car manufacturers and consumers. But this proposal is a good start, even if it doesn't gain much traction.
Here are five more driving distractions we must outlaw immediately.
Applying Makeup While Driving
This picture can be seen during morning commutes: Women using the rear-view as a makeup mirror, particularly in stop-and-go traffic. Proposal: A $200 fine for a first offense.
Shaving While Driving
The proposed ban on electronics may already cover electric shavers, but what about those guys who use disposable razors while lead-footing it in rush hour? The nation's highways are no place for personal grooming. If you must trim that stray nose hair, pull over.
Eating While Driving
Ever spot some distracted slob chowing down on a greasy burger while maneuvering a lane change? This behavior is dangerous and inexcusable. Your Triple Whopper with cheese can wait until you've reached your destination.
Handing Things to Children While Driving
Forget talking and texting, kids may be the worst distraction on the road today. If they're not terrorizing their fellow play-date passengers, these fender-bender facilitators are making unfair demands on their car-driving parents. No, you can't have your juicy cup while mommy is driving!
Drinking Coffee While Driving
Yes, it's hot. Yes, it spills. Yes, the car is moving and said hot liquid tends to slosh around, sometimes spilling out of its container and splashing on exposed human skin. Ugh. It's enough to make anyone start a 12-car smashup. Let's ban hot tea as well, even the calming herbal variety.
People are the real problem here. They're flawed, irrational, unpredictable, and easily distracted. Google has the right idea with its self-driving cars, because computers really are much better at navigating the interstate at 65 mph.
So, here's another unusual request to lawmakers: Let's ban all human drivers, too.