'Twas the week before Christmas,
and all through the land, nary a gift could be found for those bold Linux fans.
Are you at a loss for what to buy the open source aficionados on your holiday shopping list? It's actually not as difficult as you may think. Peruse this Linux fan's personal picks to find inspiration as quick as a wink.
1. Firefox Pillow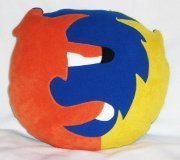 If it's a Firefox fan you're trying to please, success can be yours with the greatest of ease. How, you ask? Why, with this handmade fleece Firefox pillow from Iconpillows, of course. Chrome may have usurped Firefox's longtime No. 2 spot on the charts, but for many open source lovers, Mozilla's open philosophy is beyond compare. Why not help them show their allegiance? Pricing is $21.99.
2. Brainlink
An Android phone is a staple for many Linux geeks, but it's a safe bet that many wish they could bring that Linux joy into other parts of their lives, as well. Enter Brainlink, a new controller from BirdBrain Technologies that lets you create programs to control toy robots and other home electronics using your Android phone. Pre-created libraries for Java and Android-Java are included, and the $125 device is compatible with Linux, Windows, and Macs as well. Among the potential applications: "Create an Android App that uses object recognition and voice analysis to find you a beer," BirdBrain says. Enough said? Check out the video below for more.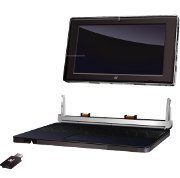 3. An Open Tablet with Four OSs
Does the Linux fan on your list have trouble choosing among the many flavors available out there? Never fear: Always Innovating's Touch Book II with a detachable tablet offers not just two form factors in one, but also four Linux-based operating systems. Included in this dual-purpose netbook/tablet device are Android, Ubuntu, Chrome OS, and the company's own, homegrown Linux system. Geek nirvana? You bet. And it will set you back only $399.
4. Hackable DIY Watch Kit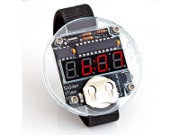 Keeping time is always an interesting pursuit, but now there's something especially fun from Adafruit. The Solder:Time DIY watch kit from SpikenzieLabs features a Dallas DS1337+ Real Time Clock (RTC) for super accuracy. Best of all? Programming and I2C pads are labeled, making the watch eminently hackable. Pricing is $29.95. Also available from Adafruit, incidentally, is the open source Monochron Clock Kit for $80. No end in sight to the time-keeping fun!
5. Open Source Necklace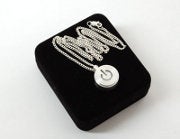 Last but not least is the iNecklace, featuring an open source LED pendant that's totally programmable. With a default pulse that's reverse-engineered from the Apple "breathing" LED pattern, proud owners of this beauty can modify it however they want because the source code, circuit board files, schematics, and CAD files are posted on GitHub. This one's available both from Adafruit and from the wizards at ThinkGeek for $75.
Bonus: Three for 2012
These gems won't be available for another month or more, but they're simply too good to ignore.
6. GameGadget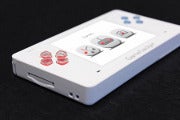 GameGadget is a Linux-based gaming console that will let gamers buy legal and secure downloads of their favorite games through an iTunes-style application. With an open source development platform, the freely programmable handheld device also offers all the tools enthusiasts need to create their own games. Pricing is about $155; availability is scheduled for January.
7. Open Source Chocolate Bar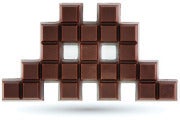 What chocoholic could resist the open source Chocolate Invader, for which every detail of the creation process is available online? Just imagine: a full 50 grams of single-origin, 66-percent dark chocolate crafted from Costa Rican cacao and shipped in a laser-engraved gift box–and your recipient could even replicate the process to create another one! Pricing is $20; the next batch will ship just after New Year's. Maybe for Valentine's Day?
8. HexBright Flex
You knew software could be open source, but did you know flashlights can too? That's right, the HexBright Flex is a programmable, open source flashlight from California developer Christian Carlberg. All source and design documentation are available online for this 500 lumens LED tool, which can be connected to a computer and programmed or recharged via USB. The project is fully funded on Kickstarter, and any Linux geek would surely be proud to be among the first to receive one. Preorder pricing is $60; retail will be $89.99. The video below demonstrates the HexBright in all its glory.