At a Glance
Expert's Rating
Pros
Realistic brushes and extensive media choices
Intuitive, easy to use
Set reference materials
Tricky color picker
Cons
No History
No searchable help
Our Verdict
Create realistic digital paintings easily with ArtRage Studio Pro.
If you're looking for a true digital painting program to create realistic portraits, drawings, and other artwork, look no further than ArtRage Studio Pro ($80, 30-day demo with feature limitations). If Joy of Painting's Bob Ross had ever put down his brushes and picked up a mouse, this would've been the software for him.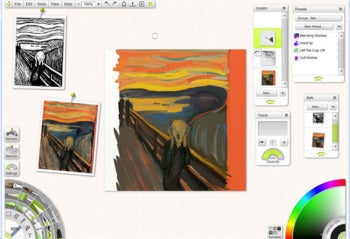 ArtRage Studio Pro 3.5.4 creates raster images (pixels) rather than scalable vectors, but you wouldn't know it from the smooth, beautiful brush strokes you can achieve. Since raster images are not re-sizable, choosing the appropriate size for your artwork a key step. Fortunately for beginners, ArtRage offers an easy-to-understand conversion to screen or paper size.
Preset shapes, which can either be solid filled or used as a mask, are included in ArtRage Studio Pro. They work much like the shape masks in popular free image manipulation program Paint.NET. ArtRage's brushes are just that, brushes. With ArtRage you chose either an oil or watercolor brush, set the size, and then pick the type of paint you are going to use–everlasting oils, thin and dry, tiny daubs, wet on wet, just water, etc.
You're not limited to paintbrushes. ArtRage Studio Pro also includes airbrush, chalk, crayon, felt pen, ink pen, paint roller, paint tube, palette knife, and pencil, with similar media choices to those the brushes offer. There's also an eraser and stencils you can use with any media. There are far fewer Tools and special effects that you'd find in Corel's Painter 12 ($429), another realistic painting and drawing program, but the tradeoff is that ArtRage is much less overwhelming to learn (and a lot cheaper).
The two special effects tools that are part of ArtRage Studio Pro are the Glitter Tube (which smears glitter) and a Sticker Spray, which applies shapes like dice, fireballs, flowers, ladybugs, etc. Some of the sticker shapes are odd, and they don't include things like tree leaves that you could actually use to create a realistic plant feel, like you can with $79 PD Artist's brush effects. If you are looking for spray on photo-realistic rocks and leaves, try PD Artist.
Just like with digital painter PD Artist (and completely unlike real-life painting), the ArtRage tools aren't constricted by the media—you can oil paint to your heart's desire, then water color over the top. Unlike PD Artist, however, it's very easy to find and set the kind of media you want to use, on the type of paper or canvas you want, and the effects are staggeringly good. Once you get the hang of the elegant yet unusual UI, it's intuitive, and surprisingly ergonomic: Everything you need to paint is within a small, easy to find place.
The features I really liked in ArtRage Studio Pro were the Layers, Trace, and Ref. These worked exactly like I expected, again intuitive and simple, yet useful. You can open images to use as reference guides (and you can eye dropper select colors from these) or as a traceable image that's placed on your canvas but doesn't print or export with your image unless you want it to.
There's no photo manipulation in ArtRage Studio Pro. If you are looking to make photo montage or use images in your paintings, you'll need to first use a program like Paint.NET to prepare your images and import them. And ArtRage uses a color wheel-type color picker, which sometimes makes it hard to find the right color you want: A sample palette would be a great addition to the eye dropper tool, although you could simple use a layer and delete it when you are done. I'd also love to see a History, like in Paint.NET..but that said, as an artist's toolbox ready to crack open and get started, ArtRage is close to perfect.
The thirty-day Demo version of ArtRage Studio Pro includes limitation on canvas size, and exports with a watermark, but otherwise is mostly intact. If you are serious about painting, digitally or otherwise, ArtRage is a great tool, well worth the money (think of the green you'll save on paint and other supplies). It's intuitive and fun to learn. Try the demo: You'll end up watching reruns of The Joy of Painting with your mouse poised and ready.
–-Clare Brandt