Verizon Galaxy Nexus users no longer have to hack their phones to install Google Wallet.
The forum-goers at XDA-Developers have released a modified version of the Google Wallet app that runs on any Galaxy Nexus, with no rooting or hacking required. Simply download and install the Google Wallet APK, and you're good to go.
To install the file, you'll need to enable apps from outside the Android Market. (Go to Settings, then Applications, and check the "Unknown Sources" box.) You'll also need a file explorer, such as AndExplorer, to find the app file once you've loaded it onto the phone. Place the downloaded APK file from your computer into any directory on the phone, open it in phone's file browser and follow the installation instructions.
This is a much easier workaround than last week's hack, which required users to unlock the Galaxy Nexus bootloader, root the phone and follow a set of complex instructions to install the Google Wallet software.
Easy Payment Plan
Google Wallet allows users to pay at select retailers by tapping their phones to a payment terminal instead of swiping a credit card. The app debuted in September on Sprint's Nexus S 4G, but was withheld from the Galaxy Nexus even though both phones have the same Near Field Communication technology.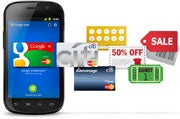 Verizon says it's not blocking Google Wallet, but has security concerns and is continuing discussions with Google on the matter. But Verizon, AT&T, and T-Mobile are planning their own smartphone payment service, called ISIS, causing suspicion that carriers don't want to promote Google's competing service. The nice thing about Android is that the will of wireless carriers can often be overridden by tech-savvy users, as the unofficial Google Wallet release proves.
Follow Jared on Twitter, Facebook, or Google+ as well as Today @ PCWorld for even more tech news and commentary.