A quartet of new features will be rolled out this week for users of Google's social network, Google+.
The service is making what is says are improvements in how Google+ handles material in news feeds, notifications, and photo views, as well as better management of business pages.
One of the new features allows you to control the "volume" of your main news stream by managing the flow of posts into it from your "circles." Using a slider control at the top of a circle, you can determine how much of that circle will be displayed in your main feed. For example, you can chose to show most of the posts from the circle, fewer posts from it or cut it off entirely.
"That way you'll never miss a post from that special someone, and you can tweak these settings to form your own 'perfect stream,'" Google+ Vice President Bradley Horowitz writes in a company blog. How perfect you can make your stream, though, is not readily apparent because the slider control doesn't appear to be a very precise tool for controlling the flow of information from a circle to the main stream. And while the new control may make missing a post from that "special someone" less likely, it could increase the likelihood of missing an important post from a circle that you're throttling.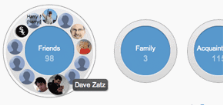 Another feature change will make notifications that appear on the newly redesigned Google Bar—the bar that appears at the top of a window displaying content from Google—more meaningful. A "sneak preview" has been added to inform you what a notification is about and why you might be interested in it. In addition, you can see how many "+1's" and shares a posting has received since you last checked it.
Earlier this month, Google boosted its social network's photo features by allowing images received in its online e-mail program, Gmail, to be shared directly with Google+. Features introduced this week will further expand the social network's photo-handling abilities. You can make an image "the hero" of a page, letting it dominate what's displayed there. Lightbox, the tool for viewing pix in Google+, has been changed to improve navigation, make comments more legible and make tagging people in images easier.
Google also continues to tinker with Pages, a feature introduced in November to allow businesses and brands to build their presence on Google+. Among this week's new features, for example, Google is allowing a business to have as many as 50 administrators for its Pages site. Notification of administrators has been improved, too, so all of them will be better informed of changes and activity at the site. They will also be given a new aggregate view of the site that tells them how many people have either tagged it with a +1 or added it to a circle.
Follow freelance technology writer John P. Mello Jr. and Today@PCWorld on Twitter.