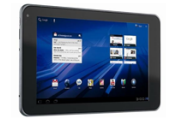 The first Google Nexus tablet could be arriving within six months, according to Google CEO Eric Schmidt, who also promises we'll see even more "brutal competition" between Apple and Google.
Schmidt told Italian newspaper Corriere Della Sera (reported in Slashgear) that "in the next six months we plan to market a tablet of the highest quality." Although he didn't call it a Nexus tablet or reveal any other details, reports have been circulating about a Nexus Android tablet since late March. Even better than those early reports, however: The Google tablet would most likely run not Honeycomb, but the new and improved Android 4.0 Ice Cream Sandwich.
Schmidt also had kind words to say about Steve Jobs in the interview, calling him a "Michelangelo of our time" who "realized the revolutionary potential of the tablet."
However, Google is definitely gunning for Apple and the battle will be fierce. Google's upcoming "Majel" voice transcription technology — an answer to Apple's Siri — may also further heat up the Google vs. Apple war. Schmidt proclaimed that Google has had for a long time the best voice recognition software, but the company will and must develop it further.
Follow Melanie Pinola (@melaniepinola) and Today@PCWorld on Twitter.