Got a spare notebook handy? Then you just might want to contribute to a new project from Xexxon Technologies. After all, for the right price and your early sponsorship, you'll have access to your own personal remote-control robot.
It's called the Oculus Telepresence Robot, an impressive mesh of personal robotics, wireless Internet surveillance, and low-price gadgetry that can be controlled by just about any tablet, iOS device, or computer. That's thanks to a few notable innovations from Xexxon founder Colin Adamson, including an open source rig built with open source Java software. Not only can the OTR roll around your empty apartment or office floor without a problem, but it can also charge itself and provide two-way audio and visual communication.
In fact, as long as you have hardwood floors (or really, just nothing with a carpet), the OTR's long battery life and study frame looks like it'll stand up to anything short of a psychotic, easily-frightened house cat. As Adamson points out in the demo, the charging base uses auto-targeting to make sure that the robot hits its mark, so you can probably go on a long vacation without having to worry about the OTR dying. Of course, it's not going to do much more than roll around helplessly if a burglar strong-arms his way into your house, but at least you'll be able to make sure that your roommates aren't eating your snacks, using your personal home PC, or wearing your favorite jacket.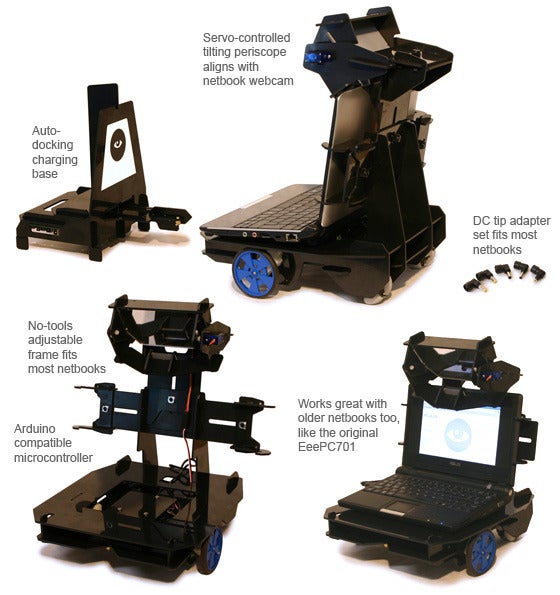 If you're worried about whether that old notebook of yours is compatible with the Oculus, you can always send a note to Xexxon at the company's main site, Twitter, or official Facebook page. From the company's Kickstarter page:
The Oculus software currently works on Windows 7, Vista and XP operating systems.

The frame fits most laptops/netbooks with 10″ screen or smaller, with webcams reasonably centered above the screen. Many 11″ laptops work as well.

Your laptop's stock charger plugs into the charging dock. Oculus will ship with 5 sizes of DC power adapters to suit most manufacturers. 10″ laptops from Samsung and Sony are known to be NOT compatible at this time (but you can always splice a charger in if you know basic wiring).
Surprisingly, the entire thing doesn't cost much more than a notebook itself. If you contribute to the Kickstarter project, a paltry $225 nets you the full kit, which should retail for significantly more if Xexxon can accrue the desired $15,000 in funding for the first line. Donating a little more dough for the LED-powered headlight also seems worth the investment, although $390 for the plywood model just screams out for a custom paint job.
We're going to assume that the second line comes equipped with a variety of anti-theft weaponry, such as a built-in taser or a hypersonic noise alarm.
[Oculus Telepresence Robot via Kickstarter, Colin Adamson]
McKinley Noble is a former GamePro staff editor, current technology nerd and eternal mixed martial arts enthusiast. He also likes Japanese sports dramas and soap operas. Follow him on Twitter or just Google his name.
Like this? You might also enjoy…
Get more GeekTech: Twitter – Facebook – RSS | Tip us off