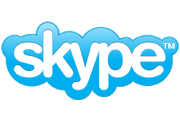 Skype will help ease the pain of holiday travel this winter by offering free Wi-Fi at over 50 U.S. airports to certain customers.
The promotion, which begins Wednesday, December 21, and lasts until December 27, is good for one hour of Internet access at airports in which the Skype Wi-Fi hotspot is available. To nab your free hour, you must log in through the Skype app for laptops, or through the Skype WiFi app–not to be confused with Skype's voice and video chat app–for iPhone, iPad and iPod Touch. (Sorry, Android, Blackberry and Windows Phone users. No holiday cheer for you.)
For a list of airports where free Wi-Fi will be available, check out the map on Skype's blog.
Free travel Internet has been a popular promo for Google during the past two holiday seasons. In 2009, Google gave away free airport Wi-Fi and free Wi-Fi on Virgin America flights from Thanksgiving through the New Year in 2009, and extended the in-flight Wi-Fi promotion to 700 domestic flights across three airlines last year. In 2011, however, Google appears to be playing the Scrooge. Its free holiday Wi-Fi Web page has not been updated since last year, and the company hasn't announced any new promotions.
Even this year's benefactors are stingier. Skype is only giving away an hour of Internet per customer, and over just one week of travel. And Delta, which is partnering with eBay and Gogo on free in-flight Wi-Fi, is only offering 30 minutes of Internet time in a promo that runs through January 2. Perhaps the promotional angle isn't actually that good for business.
Then again, these free Wi-Fi promotions can result in slower service as freeloaders clamor for bandwidth. If you want free Wi-Fi that actually works, along with other tech amenities, check out PCWorld's list of the top 20 airports for tech travelers.
Follow Jared on Twitter, Facebook or Google+ for even more tech news and commentary.