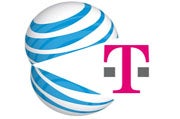 After months of wrangling against opposition from the FTC and the Justice Department, AT&T has finally admitted defeat in its attempt to take over rival cell carrier T-Mobile. By canceling the $39 billion deal, AT&T stands to lose almost $4 billion in cancelation fees to T-Mobile and, more importantly, has failed to eliminate one of its cell carrier rivals. While the deal's collapse is bad for AT&T, though, it should be cause of celebration for consumers.
[Read: AT&TKills $39 BillionT–MobileDeal]
AT&T Loses But Customers Win
Had the deal gone through, the harm to consumers would have come in two waves.
First, existing T-Mobile customers would have seen T-Mobile's value-priced smartphones and innovative data plans give way to AT&T's more expensive phones and more rigid (and data capped) service plans.
AT&T would have to do this to achieve its main goal in the deal: to buy a bunch of T-Mobile subscribers and make them as profitable as AT&T customers. The only way for AT&T to ensure the same profits from T-Mobile customers that they enjoy from their own customers is to make sure new T-Mobile customers begin paying the same prices as AT&T's existing customers, with the same plan restrictions (i.e. data caps). In a financial sense, the company would try to make clones of its profitable AT&T customers.
So for T-Mobile customers, prices would have gone up and phone and plan options would have shrunk. One example: Data caps. Verizon and AT&T charge customers if they exceed their data allotment for the month. T-Mobile uses a soft data cap, slowing service to subscribers that exceed their limit. This soft data cap would have gotten harder quickly had T-Mobile customers become AT&T customers.
For T-Mobile customers, the change would have been drastic. After all, T-Mobile has billed itself as the low-price leader among the major wireless carriers and that is what drew many customers to the company in the first place.
When AT&T announced that the deal was canceled, the Dallas-based company tried to spin the failed takeover as bad for customers. AT&T had claimed for months that it needed the T-Mobile wireless spectrum to more quickly roll out its new fast 4G network to more people. "The AT&T and T-Mobile USA combination would have offered an interim solution to this spectrum shortage," AT&T laments in a statement today. "In the absence of such steps, customers will be harmed and needed investment will be stifled."
But this argument rang hollow when the DOJ and others noted last spring that AT&T "already has significant unused spectrum holdings." In fact, it turned out, AT&T was not using spectrum that could be used for 4G LTE service. If the carrier was in such dire need of 4G spectrum, why wasn't it using the stuff it already had?
The second wave of ill effects from a combined AT&T-Mo would have been felt over a longer term by all U.S. wireless consumers. With the low-price leader, T-Mobile, out of the picture, there would have been less competitive pressure to hold AT&T and Verizon pricing in check. AT&T and Verizon's pricing structures and plan rules have a history of moving (usually upwards) together. It's no secret that the two giants' plan prices are very much alike, and that the two moved away from unlimited data plans at roughly the same time. Without competition from T-Mobile and Sprint, they would be free to move prices upward as much as regulators would allow. That's the free market, right?
And then there's Sprint. An AT&T/T-Mobile merger would have almost certainly forced Sprint to put itself on sale or simply go out of business. Sprint is already in a very tough financial position as it embarks on an expensive move to convert its networks to the 4G LTE technology. The further financial pressures created by being the last horse in a three-horse race with AT&T and Verizon would have been too much.
Without Sprint, you have a duopoly, two choices if you want a carrier with a national network. And both choices would be expensive.
[Read: FedsMovetoBlockAT&T–T–MobileMerger]
A Stronger T-Mobile
The dissolution of the merger should leave T-Mobile stronger. AT&T will give over $1 Billion in wireless spectrum to T-Mobile. T-Mobile willl also get a new roaming agreement with AT&T that makes it easier for the company to compete against its rivals. The company also gets to pocket a $3 billion cancellation fee from AT&T, as part of the "breakup clause."
All in all, this puts T-Mobile in a better position to compete with other mobile carriers than it has been in for years. More competition means more choices and likely lower costs for the average customer.