Groupon is offering to pay people to buy local, a counterstrike to Amazon's recent program to divert shoppers from buying at brick-and-mortar stores.
Groupon's Buy Local program will give its members a $10 credit for cashing in on one of the service's daily deals at a local store. However, there are some limitations on the offer. You have to register at the Buy Local website, and only the first 150,000 shoppers who make a buy in a real world store before Christmas Eve will receive the credit.
"Buy Local is further proof that shoppers don't have to make the tough tradeoff of supporting local businesses and getting great prices," Rich Williams, Groupon's senior vice president of global marketing, wrote in a company blog. "And it's an extra bonus for those of us who have waited until the last minute to find the perfect gift."
Groupon isn't the only online merchant to react to Amazon's program. eBay ran a promotion last weekend that gave shoppers a $10 discount on in-store purchases with certain retailers when the shopper spent a minimum of $100 at the retailer's online store and paid for the purchases through PayPal, which is owned by eBay.
Amazon announced its Price Check program in early December. It offered shoppers who use its Price Check app a 5 percent discount, capped at $5, on select items purchased at Amazon through the app. The discount could be applied on up to three items.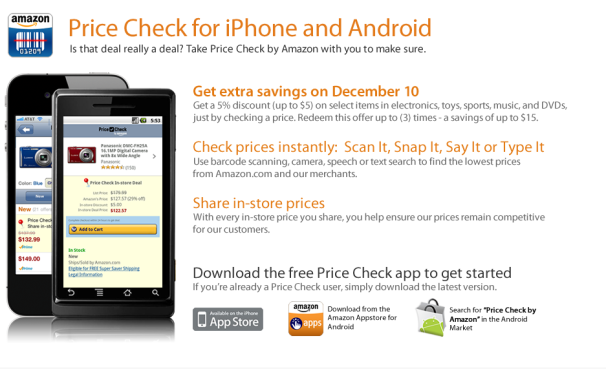 The app is designed to allow shoppers in a brick-and-mortar store to compare the price for an item to what it's selling for on Amazon.
Although the Amazon promotion only ran a day, it attracted heaps of criticism from retailers. One bookstore in Portland, Ore., even created an "Occupy Amazon" page on Facebook.
Groupon's success in the daily deal business — where shoppers are offered time-limited discounts at local businesses — has attracted many copycats, including Amazon, which offers its own daily deals through its Kindle e-reader.
Follow freelance technology writer John P. Mello Jr. and Today@PCWorld on Twitter.