At a Glance
Expert's Rating
Pros
Light and portable
Excellent multimedia playback
Cons
Ugly design
Lacks category's typical performance
Our Verdict
This smallish desktop replacement laptop may be fairly easy to tote, but it just isn't very powerful.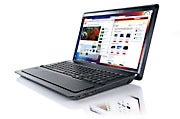 Offering a 16.4-inch screen and weighing 6.7 pounds, the Sony VAIO F Series barely edges into the desktop replacement laptop category. It's modern-looking (not necessarily a good thing), with sharp angles, smooth lines, and a monochromatic, minimalist appearance. It failed to beat the performance scores of other desktop replacements we've seen, but it's so light and small (for this category) that you might be willing to look past its performance issues.
Our review model, priced at $1119 (as of December 20, 2011), sports a second-generation Intel Core i7-2670QM processor, 4GB of RAM, an Nvidia GeForce 540M discrete graphics card, and a 640GB hard drive. It also has built-in Bluetooth 2.1, 802.11b/g/n Wi-Fi, and a Pioneer Blu-ray Disc player. Our test unit runs the 64-bit version of Windows 7 Home Premium.
In PCWorld Labs testing, the VAIO F Series performed below average for its category. Though the VAIO F Series qualifies as a desktop replacement due to its size, in our WorldBench 6 benchmark tests it earned a score of only 117, which put it in the lower half of our current Top 10 Desktop Replacement Laptops list. The five desktop replacement laptops we tested before the Sony VAIO F Series averaged a score of 151. Of course, they also weighed about 2 pounds more on average, and had about 30 minutes less battery life.
Graphics performance is also below average. In our Far Cry 2 graphics test, the VAIO F Series managed a frame rate of just 21.1 frames per second (high-quality graphics, 1920-by-1080-pixel resolution). By comparison, the category average in the same test is more than twice that at 52.5 fps.
The VAIO F Series has an interesting, if not very attractive, design. First, the basics: The laptop is matte black, with a simple lid that has a silver VAIO logo splashed across the center. Now for the "interesting" part: When you close the laptop, the lid is offset about half an inch from the base. This design creates a small step from the top to the bottom, and although it looks somewhat edgy, it also looks mismatched. Needless to say, this design is not for everyone.
Inside, the laptop carries over its edgy yet minimalist design. The wrist rest, for example, is slightly raised on its own little plateau. The Chiclet-style, backlit keyboard–complete with a ten-key number pad–is comfortable to type on, though the default setting that makes it light up brightly whenever you touch a key is annoying. (Fortunately, you can turn the backlight off.) Three physical buttons (Assist, Web, and VAIO), as well as touch buttons for multimedia control, sit above the keyboard.
Below the keyboard, on the raised wrist rest, is a small touchpad denoted only by a textured square. The touchpad is smooth and responsive, though I dislike textured pads. Below the touchpad is a wide black rocker that serves as both a left- and right-click button. Like most rockers, this one feels a little cheap.
Ports on the VAIO F Series are easily accessible. On the right side of the laptop are a headphone jack, a microphone jack, and one USB 2.0 port. On the left side you'll find two USB 3.0 ports, a gigabit ethernet port, an HDMI output, and a VGA output. The laptop also carries an S400 port (four-pin FireWire), as well as a multiformat card slot, on the front.
The VAIO F Series comes in two versions: regular ol' 2D and fancy new 3D. Our review model, the 2D version, sports a 16.4-inch semiglossy LED screen with a native resolution of 1920 by 1080 pixels. The bright and clear screen looks good but not great, with decent color representation (the picture occasionally seems bluish) and mostly crisp edges. Off-axis viewing angles are dismal, especially if you look at the screen from above or below.
Video playback on the VAIO F Series is excellent, and high-def videos stream seamlessly. Blu-ray discs also look awesome, though DVD upconversion is a little sketchy. In my testing I saw a lot of blocky artifacts in multiple DVD scenes.
Audio on the VAIO F Series is quite good, though the speakers suffer from the usual laptop-speaker syndrome: tinniness and a lack of bass. Still, the speakers aren't painful to listen to, especially if you use the Dolby Home Theater filtering option. Plus, they're extremely loud.
Performance issues aside, the Sony VAIO F Series isn't a bad buy. Sure, you'll have to contend with Sony's extra software (such as its VAIO Gate dock), and the FireWire port is weirdly located on the front of the computer, but otherwise the VAIO F Series is a decent laptop for multimedia playback and basic tasks. I don't love the design, but other people might. Plus, it's pretty portable for a desktop replacement.