If you're among the lucky ones to receive a new PC this holiday season, rejoice. There are few things as exciting as the potential of a brand-new machine.
Assuming it's not a Mac–or a machine with Linux preloaded–Windows almost certainly came installed on your device. If you're a Windows fan, that's great–you're all set for an operating system, then. If not, the hard part is choosing what to install instead.
In any case, the world of free and open source software has you covered, both for an operating system and for just about any other software you might need. Where to begin? Here are six suggestions.
1. Ubuntu Linux or Linux Mint
If you're not crazy about Microsoft Windows, or if you'd like to have an alternative on hand, there are countless Linux options you could try.
Among the two most popular, though–and the ones most agree are best suited for new users–are Ubuntu Linux and Linux Mint.
Ubuntu, of course, was long the No. 1 Linux distribution out there, and rightfully so. It was the first to put Linux on the "map" with mainstream users, I'd argue, and it still offers a really nice, easy-to-use open source operating system. The latest version of Ubuntu is "Oneiric Ocelot," or version 11.10, which can be downloaded for free from the Ubuntu site.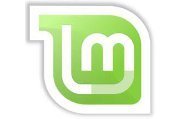 Linux Mint, however, has recently usurped Ubuntu's No. 1 spot, largely because of Canonical's decision to begin using the Unity interface by default in Ubuntu. That's been less than entirely popular with many longtime users, in particular, giving Mint a new boost.
Mint is a great distribution as well–also very focused on ease of use–and it gives users a number of choices for the desktop environment they want to use. So, for flexibility in your computing environment, you won't go wrong with Mint.
There are, of course, numerous other Linux distributions as well. I'd say pick one and give it a try; if you don't like what you see, it's easy to switch.
2. Firefox or Chrome
Assuming you have Windows, you probably have Internet Explorer as well. There are many reasons to consider installing something else, however–either in addition or instead of that browser–and Firefox and Chrome are the most obvious examples.
Chrome recently assumed the No. 2 spot in the browser market–displacing Mozilla Firefox–and it's widely considered the most secure choice. Firefox, however, just got a really speedy update, and it's designed with numerous ethical considerations in mind.
All in all you really can't go wrong with either of those, and of course they're both free.
3. Thunderbird
Also made by Mozilla, Thunderbird is free, cross-platform e-mail client software that I've been using for years. It's very easy to set up and customize, and it's available in countless languages. Numerous extensions are available as well.
4. LibreOffice
It used to be OpenOffice.org that was the most commonly recommended free and open source office productivity suite, but over the past year or so LibreOffice has taken its place.
I use LibreOffice every day for my writing, and I can attest that it's a great alternative to Microsoft Office and the other big competitors out there. Just like Office, it includes modules for word processing, spreadsheets, and presentations.
LibreOffice is free, it's open source, it's business-ready, and it does everything most people need. There are also lots of extensions that extend its capabilities even further.
5. GIMP
If you ever work with photos or other images, GIMP is a must-have alternative to Adobe's expensive Photoshop software. GIMP is great for making Web graphics, creating marketing materials, and retouching product photos, and any images you create can be saved in numerous formats, including Photoshop. Once you try out GIMP's high-end graphics editing and creation features, you'll be amazed that it doesn't cost anything.
6. ClamAV
Finally, whether you're running Windows or not, it's a good idea to have some sort of antivirus protection in place, and ClamAV is a great free choice. The popular cross-platform tool detects Trojans, viruses, malware, and more.