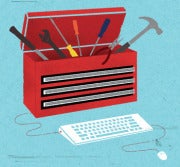 These three Office fixes–one each for Word, Excel, and PowerPoint–are all ones that you should know about.
Change the default Microsoft Word font. Not a fan of 11-point Calibri? You can change Word's default font by changing the Normal template. On the Home tab, in the Styles section, right-click the Normal box and select Modify. Change the font in this dialog box, then click New documents based on this template before clicking OK.
Is Excel running slowly? Turn off automatic calculations. If your workbooks are very complicated, simply changing one number can affect hundreds of calculations–which Excel will perform automatically, right after you change it. Turn off automatic calculations from the Options dialog box. To get there in Excel 2010, click the File tab, and then select Options in the left pane. Once you're in the Options dialog box, select Formulas in the left pane. For Workbook Calculations, select Manual. Just remember that the numbers won't be correct until you either save the file or press F9.
Why won't PowerPoint open my presentation?
You bring your presentation on a flash drive, plug it into your host's computer, double-click the file–and you get an error message saying PowerPoint can't open it. That's likely because your file is in the newer .pptx format, and you're trying to open it on an older version of PowerPoint. The easiest way to avoid compatibility issues is to save your presentation in the old .ppt file format. Your files will be significantly bigger, but you probably won't run into other problems.
You can make the old format your default in the PowerPoint Options dialog box. To get there in PowerPoint 2007, click the Office orb in the upper-left corner, and then click the PowerPoint Options button. In version 2010, click the Ribbon's File tab, and in the left pane click Options.
Once you're in the dialog box, click Save in the left pane. For the 'Save files in this format' option, select PowerPoint Presentation 97-2003.