At a Glance
Expert's Rating
Pros
Works with many social networks
Monitors mobile activity
Cons
Expensive
Delivers some false positives
Our Verdict
SafetyWeb.com offers a comprehensive way to monitor your child's online and mobile activity.
Keeping your kids safe online while allowing them to maintain their privacy can be tricky. But SafetyWeb.com makes it a whole lot easier: This service alerts you to many questionable or potentially dangerous activities that your kids may be partaking in online, without requiring that you watch their every little step. This service costs $10 per month or $100 per year for one child; covering additional children costs $5 per month.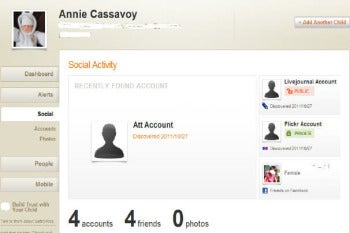 To use the service, you enter your child's email address (or addresses) and SafetyWeb scours the Web, looking for social networking accounts and more associated with those addresses. The service can alert you to public and private accounts on more than 60 social sites, including Facebook, Twitter, MySpace, and more.
I tested SafetyWeb with a backup email account, and it alerted me to accounts that I knew about, such as those on Facebook and Twitter, but also alerted me to accounts I had created and forgotten about, such as those on Flickr, LiveJournal, and LinkedIn. What's nice about SafetyWeb's approach is that the service is not limited to working with a small group of social networks, as some of its rivals are. Services like SocialGuard and MinorMonitor work only with Facebook, while competitor SocialShield works with a handful of networks, including Facebook, Twitter, and Google +.
In addition to monitoring online activity, SafetyWeb lets you keep tabs on your child's cell phone usage. You'll need their cell phone number and the password they use if the account is managed online (or is part of your family plan). SafetyWeb lets you see how many texts the child is sending and receiving, and notifies you if they are using their phone frequently during odd hours, such as the middle of the night. This is the same kind of information you could glean from monitoring their account through your cellular carrier's site, but being able to access it from a central location makes it a whole lot more convenient.
SafetyWeb delivers alerts that are classified either as Red Flag, Warning, Positive, or Informational. By default, public accounts are red flagged, while the creation of other accounts is simply delivered as warnings. Private accounts are listed as Positives. When information on an account is public, such as a Twitter feed, SafetyWeb will scan its content and alert you to problematic language or posts. If you are Facebook friends with your child, you can connect the accounts, and SafetyWeb will scan the posts and photos that you would be able to see.
Like all of its rivals, SafetyWeb occasionally delivered a false positive, alerting me to phrases like "shots" even when used to describe photos, not drinks. But dismissing the alerts is easy, and I prefer a service to be overly cautious when it comes to protecting my kids.
Overall, SafetyWeb offers an excellent way to protect your kids against the dangers of the Internet, but does so in a way that allows them to maintain their privacy. It's expensive, especially when compared to its rivals, which cost much less. But it delivers a comprehensive monitoring solution for the price.
–Liane Cassavoy