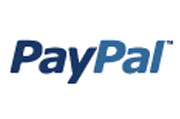 PayPal is testing mobile payments using NFC (Near Field Communications) stickers in Stockholm, allowing users to pay for goods at two stores using Apple's iPhone and Android-based smartphones.
Payments using phones come in many guises, and PayPal isn't betting on just one technology at this point.
"We are experimenting with a lot things, in order to deploy next year with several retailers. As always, Northern Europe is always ahead of everyone," said Olivier Binet, innovation business development manager at PayPal.
The technology used isn't essential, as long as its safe and easy to use, according to Binet.
Earlier this year PayPal announced plans to use bar codes to enable mobile payments.
Passive stickers were chosen because there aren't enough phones with NFC integrated, according to Lars Aase, vice president of marketing at Accumulate, whose platform is used to handle the transactions in the Swedish test.
PayPal offers third party developers APIs to integrate their systems to allow payments using PayPal, to help drive next generation mobile payment options, according to Binet.
"Of course, we offer support when the idea is exiting enough," said Binet.
To shop at either electronics retailer Webhallen or ski equipment store Alpingaraget (The Alpine Garage) users first need to download the PayPal InStore application, and connect it to their PayPal account.
Stickers are available in both stores, and attach users can them to the outside of the phone or on the battery, as long as the shell is made of plastic. The sticker is then connected to the user's PayPal account using a nine-digit activation code.
To see how well the technology worked, IDG News Service headed to Webhallen.
To pay, users first have to start the PayPal app; enter a PIN code; choose to pay using PayPal; choose to activate swiping; sweep the phone over payment terminal; confirm the transaction; and wait for it to be verified. The last step can take up to 30 seconds, according to the application, but took about 10 seconds in the store.
That's a lot of steps, but the process was smooth, with the exception of the sweep over the payment terminal, which worked after a few tries. When the teller gave some more instructions, it worked straight away.
However, it is hard to see why users would want to use the phone instead of a card, unless they get something in return or the payment process is streamlined.
The test started on Monday at Alpingaraget and on Tuesday at Webhallen, and will end on Dec. 26 and Dec. 24, respectively.
"[Mobile payments] is something our target group can potentially appreciate … It is still very new, but I think its something that will become more prevalent," said Wilhelm Sporrong, chief operating officer at Webhallen.
Send news tips and comments to mikael_ricknas@idg.com