Jacob E. Goldman, a founder of the Palo Alto Research Center that developed breakthrough computing innovations such as the graphical user interface and ethernet networks, died on Tuesday. He was 90.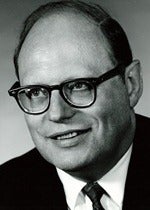 Goldman was recruited from Ford Motor Company to Xerox in 1968 as senior vice president of research and development; during his five years in that position the company's R&D budget grew from $60 million to $165 million. He pushed for a research center that he warned might not bear fruit for as long as 10 years, according to The New York Times, which reported that he died of congestive heart failure.
As chief scientist and CTO of Xerox, he founded not only PARC but also the Xerox Research Centre of Canada, located near Toronto.
In the decade following PARC's founding in 1970, the laboratory created a string of innovations that still resonate in modern computing today, from laser printing to object-oriented programming to the world's first WYSIWYG (What-You-See-Is-What-You-Get) editor.
In 1975, PARC unveiled the graphical user interface with pop-up menus and windows and point-and-click controls. The GUI represented crucial ground work later built upon by companies such as Microsoft and Apple.
In a paid death notice in The Times, Goldman is described as "a dynamic leader and ardent supporter of innovative technologies."
He retired from Xerox in 1982. He lived in Connecticut and became a private investor, according to the book "Dealers of Lightning: Xerox PARC and the Dawn of the Computer Age" by Michael Hiltzik.
Goldman was born on July 18, 1921. He graduated from what was then Yeshiva college, and earned masters and doctorate degrees from the University of Pennsylvania.
Send news tips and comments to jeremy_kirk@idg.com