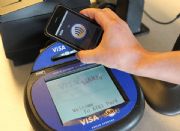 You may increasingly pay for things in 2012 with a smartphone, thanks to NFC technology and mobile payment systems like Square Card Case. But both consumer confidence and merchant adoption need a boost before the masses use iPhones to pay for their morning Starbucks.
The Merchant Liability Question
Online merchants have been used to assuming the liability from cardless transactions for some time. This means that if someone purchases a product and you ship it as an online merchant, you have little recourse in the event of a chargeback, and are at the mercy of the credit card company.
[Related: Square vs. Intuit GoPayment: Mobile Credit Card Systems Compared]
According to the credit companies, a mobile NFC payment is a card-not-present transaction, and the liability rests with the merchant, something that retail businesses aren't used to. Square addresses this by making itself the merchant of record, and PayPal offers a Seller Protection program offering to go to bat for merchants that have been subjected to fraudulent chargebacks.
This makes the question about adoption of mobile payment systems a multi-pronged one; consumers may still be protected, but will traditional merchants want to accept the liability that they currently don't have? PayPal
If you walk into select Starbucks cafes today, you can use your PayPal account to pay for coffee using your Starbucks mobile app. That's about as far as it goes, and there is no NFC involved in that transaction yet. If trials in Sweden work out with PayPal InStore, that may change. PayPal currently extends Seller Protection to all of its U.S. sellers, through which it covers unauthorized transactions. PayPal advises merchants that they should get a signature for payments over $250, and it's too early to say if that will change with PayPal InStore.
For mobile safety, lock down your phone with a password when it isn't in use. PayPal doesn't save any of your information on your device, so your financials are never shared. You log in with your email and password, and you don't pass along your credit card information at any point. If you lost your phone, someone wouldn't have access to your data.
Square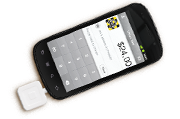 Square offers an innovative concept that lets you send and receive payments with a smartphone. Merchants can purchase Square's Card Reader, and pay Square 2.75 percent per swipe of a credit card. This is attractive to micro-businesses that may not otherwise accept credit cards, but for existing retail businesses the processing rate is a full percentage point above the best bids I could find at feefighters.com. Unlike those services, there are no potential hidden costs or monthly fees with Square, and payouts come the next day rather than taking weeks. If you and your customers both have the Card Case app installed, customers can pay through the application on their handheld, and fund the purchase behind the scenes; no dollars change hands until put into the merchant's account by Square. Google Wallet
Google Wallet works with Citi Mastercard or a Google Prepaid Card that you can fund with any other payment card on the client side, and a Mastercard PayPass on the merchant side. Google Wallet forces a password on the app so that your information is kept secure.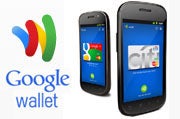 On the merchant side, you need a tap-and-pay (NFC) terminal to take advantage of Google Wallet. Google Payments offers merchants a deal on upgrading to a tap-and-pay terminal and does not charge merchants for using Google Wallet, since it works in conjunction with your current point-of-sale system. We're not at the point where we can pay for just anything with our smartphones yet. It may be an entire generation before physical credit and debit cards become extinct. But when they do, hopefully it will be more convenient for merchants and consumers.
Angela West dreams of opening a Fallout-themed pub featuring wait staff with Pip-Boys. She's written for big insurance companies, small wildlife control businesses, gourmet food chains, and more. Follow her on Twitter at @angelawest and Facebook.