Whether you are traveling for business or pleasure, you need to check into work on the go, get more out of your smartphone, and keep your gadgets powered and ready for anything. These durable cases, long-lasting chargers, and cool add-ons promise to help you do more on the road or in the air.
iDapt Chargers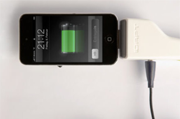 While the iDapt charger is hardly the only universal charger on the market, its maker has committed to keep developing new interchangeable tips so that the charger you buy today will also be able to charge your devices 10 years from now. If that promise holds true, that puts the iDapt ahead of competing products for about the same price.
Price: from $24.99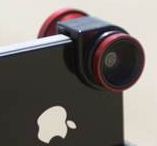 Olloclip iPhone Camera Lens
This clip-on accessory gives your iPhone fish-eye, wide-angle, and macro lenses. Olloclip was a rockstar on fundraising website Kickstarter, where it blew past its asking goal of $15,000 to raise just over $68,000.
Price: $69.99
Durable iPad 2 Cases
There are lots of iPad and tablet cases on the market that look pretty, but when traveling, you want durable. We've covered a bunch of different iPad 2 cases, but my picks for preserving your iPad 2 are the Ultimate Carbon Fiber Case for iPad 2 by Innopocket and the RAM Rugged Handi-Case (shown here), which acts as a mini-briefcase and can replace a laptop bag.
Ultimate Carbon Fiber Case Price: $199.00 RAM Rugged Handi-Case Price: $97.13
iGeek Large Capacity Portable Charger
If you're going to be somewhere without power for a significant period of time, this large capacity charger has got your iPads, tablets, smartphones and other phones covered. It should add hours of time for you to tap away on your tablet. Too bad it doesn't power laptops.
Price: $61.99
Zagg Folio for Samsung Galaxy Tab
The Zagg folio keyboard case transforms your Galaxy Tab from a fun plaything to a full-blown productivity tool, perhaps even a laptop alternative. It comes with a removable Bluetooth keyboard and a stand with a microfiber lining to protect the display surface.
Price: $99.99
Brenthaven Kindle Fire Cases
There aren't a lot of cases on the market yet for the Kindle Fire, but Brenthaven has come up with a couple of the first. The Uptown has a sleek look, and can turn into a stand to help you use your Kindle for light Web browsing and reading during downtime, or to view important PDFs for work. Their custom-fit satchel for the Kindle Fire looks nice if you need a little more room for your stuff than the Uptown offers.
Prostyle Satchel Price: $49.95 Uptown Price: $39.95
Wi Fi Finder If you are trapped in the middle of an unfamiliar airport or city nowhere near a Starbucks, you may need a bit of help getting online. Jiwire's Wi Fi Finder app finds free Wi-Fi for your iPhone or for your Android device. In the meantime, check out PCWorld's extensive report on the 20 best airports for tech travelers.
Price: Free
Tablet, iPad, and other Car Mounts by RAM
RAM, the same manufacturer that brings you the mini-suitcase for your iPad 2, specializes in tablet and iPad mounts for your vehicle. Make sure to check out your local distracted-driving laws before installing this to make sure that it is legal in your state and city.
Price: $150-500; varies according to mount and vehicle
Bluetooth Headsets
While there are a ton of Bluetooth headsets to choose from, the best-rated one in PCWorld's reviews was the Jawbone Era. Maybe that's because it streams Pandora with high-definition sound, or maybe because it looks more like an aerodynamic sportscar than a clunky gadget. Either way, it's a pretty hot headset.
Price: $129.99 (Best Buy)
Monster Outlets to Go
You know that crazy dance you do in your hotel room to plug in all your devices–the one where you dive under table legs, discovering gum from previous occupants on the underside of that once-stately desk, and meeting the dust bunnies the cleaning staff left behind? Dance no more. Monster's Outlets to Go Power Strip gives you three AC outlets and one USB port to charge your various batteries while you recharge yours.
Price: $19.95
If you plan on making lots of trips in 2012, check out more recommendations from serious traveler Anil Polat and my piece on preventing travel tech nightmares.
Angela West dreams of opening a Fallout-themed pub featuring wait staff with Pip-Boys. She's written for big insurance companies, small wildlife control businesses, gourmet food chains, and more. Follow her on Twitter at @angelawest. Facebook.