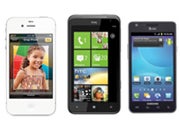 Smartphones in 2011 were increasingly the go-to device over traditional cameras and camcorders for Americans looking to capture photos and videos, a recent survey finds. Mobile handset photography jumped from comprising 17 percent of photos taken in 2010 to 27 percent in 2011, according to market research firm NPD Group. Traditional camera usage, meanwhile, fell 12 percentage points from 52 to 44 percent of all photos taken in 2011.
Smartphones most often replaced cameras and camcorders in 2011 for taking photos and videos during "fun, casual, spontaneous moments," NPD says. The company finds that more than 50 percent of mobile phone users were replacing traditional single-purpose devices to take a quick snap or short video while on the go.
Sales Dip
One result of the smartphone camera revolution is that sales of lower end point-and-shoot cameras fell 17 percent in units sold between January and November. Pocket camcorder unit sales also dropped 13 percent, while traditional flash camera unit sales declined by 8 percent.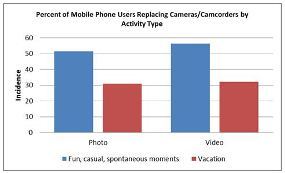 NPD's findings are hardly surprising when you consider how good smartphone cameras have become in recent years. Cameras in devices such as the T-Mobile My Touch Slide 4G, Samsung Galaxy S II, and Apple's iPhone 4S all got high marks for quality in a recent PCWorld smartphone camera study.
[RELATED: *11 Tips To Ensure Great Smartphone Photography]*
Smartphones are also far more convenient than their single-purpose counterparts. "The compromises [between a smartphone and a point-and-shoot] are greatly overshadowed by the fact that a smartphone is always in [your] pocket and can share photos instantly. Those two factors are a one-two gut-punch to lower-priced compact cams," Senior Editor Tim Moynihan said during PCWorld's smartphone camera tests.
Upswing for the DSLR?
But the rise of the smartphone may not be all bad news for the camera industry. NPD's study finds that high-quality cameras with detachable lenses and an average selling price of $863 grew by 12 percent in units sold during 2011. Higher quality point-and-shoots with optical zooms of 10x or more also grew by 16 percent in units sold. So perhaps all those smartphones uploading snaps to Facebook, Flickr, Google+, Hipstamatic, and Instagram are causing people to take a more serious interest in photography and ultimately purchase higher-end equipment.
Connect with Ian Paul (@ianpaul) on Twitter and Google+, and with Today@PCWorld on Twitter for the latest tech news and analysis.