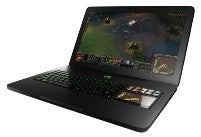 Razer announced this week that its much anticipated Razer Blade 17-inch gaming laptop is delayed past the expected holiday deadline and won't likely arrive until mid- to late January 2012. The good news is the Blade will now come with an SSD instead of a traditional HDD at no additional cost to buyers. Razer is also handing out a custom-designed mouse for free as an apology for the delay.
The delay is no doubt disappointing for all the gamers who are eager to get their hands on this incredibly light and thin gaming laptop, which features an Intel Core i7 processor, NVIDIA GeForce GT 55M graphics card, and a unique LCD multitouch panel/touchpad.
Razer's decision to upgrade the laptop's drive from a 320GB HDD to a 256GB SSD means the Blade will perform even faster. Even better, though, the upgrade won't cost you a cent. An SSD might normally raise the laptop price by $300 to $500, but Razer is keeping the price of the Blade at $2799.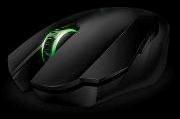 In its Facebook announcement, Razer says the company renegotiated lower costs with its suppliers and decided to pass the savings on to customers with the hard drive upgrade. (Perhaps the hard drive shortages caused by flooding in Thailand also influenced the decision.)
In the end, the delay is a good thing for prospective Blade owners. Another bonus: If you placed an order for the Razer Blade you can also get a coupon code for a custom-designed Razer Orochi Blade mobile gaming mouse when you sign up to be notified when the Blade ships — in January 2012.
Follow Melanie Pinola (@melaniepinola) and Today@PCWorld on Twitter.