Giant domain name registrar GoDaddy is under fire after the company recently acknowledged it supports the Stop Online Piracy Act (SOPA) currently before Congress.
"The purpose of this legislation is to target foreign sites that are stealing U.S. property . . . We need to find a way to preserve American ingenuity . . . SOPA is a needed tool to get the ball moving," draconian" and the creation of a "U.S. censorship regime." The bill, critics argue, would give the government and copyright holders unprecedented powers to shut down websites suspected of infringement.
Notable tech figures recently sent a letter to congress (PDF) opposing SOPA. Among those signing the statement were Google co-founder Sergey Brin, PayPal co-founder Elon Musk, Wikipedia founder Jimmy Wales, and Twitter co-founders Jack Dorsey, Biz Stone, and Evan Williams.
I Can't Has SOPA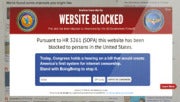 Cheezburger.com CEO Ben Huh has threatened to remove his company's more than 1000 domains from GoDaddy, the world's largest domain name registrar managing over 50 million domains worldwide, if the company doesn't reverse course. Cheezburger owns a variety of popular meme-centric sites such as I Can Has Cheezburger, FAIL blog, and Know Your Meme.
Stack Exchange co-founder and CEO Joel Spolsky has also pledged to move his company's sites from GoDaddy's registrar service. The company runs a number of popular tech-focused sites such as Stack Overflow, Super User, and Ask Ubuntu.
Beyond GoDaddy
Meanwhile, Y Combinator venture fund founder Paul Graham is going farther than pledging not to do business with GoDaddy. Graham has said he will no longer invite companies that support SOPA to the fund's Demo Days — a biannual event where startups pitch their businesses to investors. The implication is that these companies will lose out on seeing a number of potentially hot new tech startups. Y Combinator has helped grow a number of well known companies including Dropbox, Posterous, and Airbnb.
Graham made the pledge on Y Combinator's Hacker News, a user curated site of tech-focused news from around the web. The House Judiciary Committee recently published a list of companies supporting SOPA (PDF).
It's unclear if the GoDaddy boycott will convince the company to change its position. It's also unknown how many people intend to remove their domains from the company's service as a result. The company's Twitter feed is filled with responses to users asking about GoDaddy's support of SOPA.
Who Else will Take a Stand?
GoDaddy's SOPA support may also put anti-SOPA supporters in an uncomfortable position. One example is Google which, as a post on Y Combinator Friday points out, partners with GoDaddy to register domains for new Google Apps customers.
Go Daddy may or may not suffer from its support of SOPA, but if you're a disgruntled GoDaddy customer this might be a perfect time for you to switch providers. Competing domain name registrars such as HostGator, Name.com, Namecheap, and Hover are offering discounts to SOPA-hating users transferring from Go Daddy.
Connect with Ian Paul (@ianpaul) on Twitter and Google+, and with Today@PCWorld on Twitter for the latest tech news and analysis.