At a Glance
Expert's Rating
Pros
Big bright display
AT&T LTE is very speedy
Excellent camera
Cons
Battery life seems short
Sometimes sluggish
Our Verdict
With its large and lovely display and fast LTE speeds, the HTC Vivid is an excellent phone for watching movies or playing games—but watch that battery.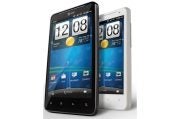 HTC delivered the first LTE phone on Verizon, the HTC Thunderbolt, and now, the smartphone maker is testing the AT&T LTE waters with the HTC Vivid ($200 with a two-year contract; price as of 12/23/11). The Vivid is a solid additionto AT&T LTE with super fast data speeds, a gorgeous display, and a solid camera. Quick-draining battery life over 4G still seems to be a bit of an issue, however, and the HTC Sense overlay doesn't exactly give you a pure Android experience.
Thin, but Dull Design
The Vivid doesn't exactly stand out in a sea of rectangular all-black smartphones: Its face is dominated by its 4.5-inch display with a shiny black bezel around it. The battery cover is a matte plastic with "HTC" engraved on it. Measuring 5.07 inches long by 2.64 inches wide by 0.44 inches thick, the Vivid is a bit on the beefy side, especially when you compare it to the Galaxy S II phones (0.33 inches thick), the Razr (0.28 inches) or the iPhone 4S (0.37 inches). Below the display, you'll find the usual touch-sensitive navigation buttons: Home, Menu, Back and Search.
Despite the uninspired design, the qHd display on the Vivid lives up to the phone's name. Images and video look great with bright colors and crisp details. The 4.5-inch real estate is plenty large enough for playing games and watching full length movies. In bright sunlight, however, the display fades a bit, making it hard to see.
Android Gingerbread with HTC Sense
We've written quite a bit about Android 2.3 and the HTC Sense overlay, but I'll cover the basics here. The Vivid runs the latest version of Sense, which can also be found on the HTC Sensation and the HTC EVO 3D. The Sense user interface has a new customizable lock screen. You can pick a theme for your lock screen (the phone offers quite a few to choose from) and then select four apps that you visit most frequently. When you turn on your phone, you'll see those four apps at the bottom of the screen. To unlock the screen, you drag the circle into position over an app's icon, at which point you'll jump straight to that app. As a result, you don't have to go through multiple menus to reach your e-mail or other items that you access regularly.
The new version of Sense has a spruced-up Walls system, too. Rather than having to flick back and forth between your walls, as you do in the stock Android operating system, you can flick the Sensation's screen to make the walls spin. The effect is a bit reminiscent of a rotating carousel.
You can also pinch the homescreen or press the Home key to see thumbnail-sized versions of all of your walls. HTC has a few custom widgets on the Vivid, like FriendStream which aggregates all of your social networks and the ever-so-popular Weather widget, which beautifully displays your area's local weather conditions.
You also have access to HTC Watch, a movie and TV streaming service. Other preloaded apps include NFS Shift game (which seems to be on every single smartphone these days), Qik, Polaris Office, HTC Places, HTC Hub, Amazon Kindle, and your usual clutch of AT&T-branded apps (Navigator, myAT&T, etc.).
Performance
The Vivid is powered by a 1.2GHz dual-core Qualcomm APQ8060 Snapdragon processor. We ran the Qualcomm-developed Vellamo benchmarking app, on which the HTC Vivid got a score of 742. Interestingly, this puts the Vivid just below the single-core HTC Thunderbolt. For comparison, the Galaxy Nexus earned a score of 803 and the Droid Razr got a score of 1040. We haven't yet run our in-house benchmarks on the Vivid, but will update this review when we do.
Using the FCC-approved Ookla app, the Vivid achieved average download speeds of 17.1Mbps and 10.58Mbps when testing in various parts of San Francisco. These speeds are on par with LTE speeds we've seen on Verizon's LTE network. The power of LTE was particularly evident when I was browsing the Web or streaming video from YouTube or other Web sources.
I detected some sluggishness in the software, however, as I was doing my testing. While pages loaded quickly in the browser, switching between portrait to landscape mode was a bit slower than I expected.
Call quality over AT&T's network in San Francisco was consistently good. I had consistent reception everywhere I went in the city. My friends on the other end of the line said that my voice sounded loud enough, but a bit hollow. My friends sounded natural and clear with an ample amount of volume, though.
We haven't conducted our formal battery tests, but I could tell that there was a significant strain on the battery when I was connected to 4G. This was particularly evident while I was playing Minecraftor streaming a long video via HTC Watch. We'll update this review when our lap testing is complete.
Excellent Camera
The Vivid has an 8-megapixel camera with 1080p video recording support. HTC has really stepped up its game when it comes to cameras; the Amaze and the T-Mobile myTouch 4G Slide both produced stunning photos. I was pleased to see that the Vivid is in the same league. The photos I shot outdoors had bright and, er, vivid colors while my indoor photos had sharp detail.
The videos I shot with the Vivid weren't nearly as good. Colors looked oversaturated and there was a bit of artifacting. It also didn't handle motion very well. As you can see in my test video below, the cars stutter a bit as they go by.
Bottom Line
With its large high resolution display, beefy processor, and LTE data speeds, the HTC Vivid is an excellent multimedia machine. But keep an eye on that battery; you might not finish a whole movie over 4G before you have to plug it in again.