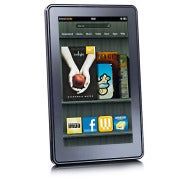 Amazon's Kindle Fire is not only a great way to access Amazon content, soon it may also be a cheap way to get your hands on a tablet running Ice Cream Sandwich, the latest version of Android. JackpotClavin, a hacker on the xda developer forum, has released what is being dubbed as a pre-alpha build of Ice Cream Sandwich for the Kindle Fire. But as the term "pre-alpha" suggests this release is still a little buggy and is really targeted for developers who want to help improve how Google's operating system works on the Kindle Fire.
Some of the various bugs and issues popping up include a problem with mounting SD cards, and the blog Liliputing says Ice Cream Sandwich on the Fire has problems rendering video. Nevertheless, this latest Fire hack appears to be promising and if the project continues, the $199 Fire could be a better option for a cheap Ice Cream Sandwich tablet than the $99 Novo7.
If you'd like to give ICS on the Fire a try, keep in mind that this release is targeted primarily at developers. If you're feeling daring, you can find ICS for the Fire on this xda thread. JackpotClavin's version of Ice Cream Sandwich for the Fire is based on CyanogenMod 9, according to Liliputing. CyanogenMod is a popular version of Android for people willing to root (gain administrative control) over their devices. The current stable build of CyanogenMod is version 7 based on Android 2.3 Gingerbread.
Ever since Amazon released the Kindle Fire in November, hackers have been hard at work getting the device to run unofficial software. Just two days after Amazon's media tablet started shipping hackers were able to root the Fire. A recently released app called Kindle Fire Utility, a command line interface for the Amazon tablet, can also be used to root your device.
Kindle Fire running Ice Cream Sandwich:
Connect with Ian Paul (@ianpaul ) on Twitter and Google+, and Today@PCWorld on Twitter for the latest tech news and analysis.