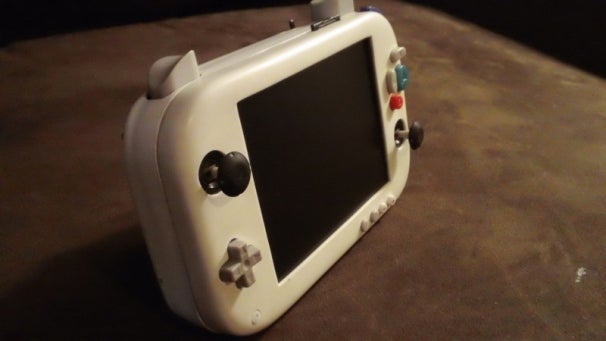 Getting excited about Nintendo hardware on Christmas is something of an Internet meme, and hardware modder "Tchay" saw fit to complete his own ambitious Nintendo project this past holiday weekend. Sporting a professional-looking shell and the ability to play GameCube games disc-free, Tchay introduced the "Envision" to the modding community with several detailed notes and photos. For those counting, it's his second handheld GameCube build so far, and this newest one actually looks remarkably like the WiiU tablet controller.
Although it's not the only innovative GameCube handheld kit on the block, Destructoid rightly points out that the Envision's highlight reel on YouTube should put it well ahead of the pack thanks to crisp editing and the judicious use of the Legend of Zelda tribute album 25YEARLEGEND.
As shown in the video, the Envision is roughly the size of any number of tablets and has a full-button layout to support any GameCube game file. Even though the majority of the sizzle reel focuses on GameCube titles, the montage clearly shows that the Envision works with Nintendo 64 software as well. That's all thanks to the Wiikey Fusion chipset, which enables devices to run Wii and GameCube games free of the actual discs.
Modder Tchay also provided detailed specs and notes for the Envision, highlighting several key components that went into the build, should anyone desire to attempt a similar project.
OMGWTF rev A mobo; wii classic controller; 4 cylindrical batteryspace batts, 3.7v each, 2600mAh, 2 hours battery life; Thinkpad heatsink and fan (credits to Zenloc for pointing it out); 1.375″x6.5″x4.125″ (exact dimensions pending); feels like a pound; Unmodded L and R potentiometers; No Disc drive – uses Wiikey Fusion runing games off of SD card (major credit to Ashen); volume control; Smartphone speakers as they are incredibly small yet sound great; PS2 madcatz retrocon joysticks; Case molded by Chris Downing; Daftmike Battery circuit LED
Such an inventive and complex mod took a toll on Tchay, though. As noted in the forum posting, the entire project lasted seven months, about 13 motherboards suffered a cruel fate in the construction process (including a fried motherboard during a basic repair job), and the finishing touches required multiple all-nighters. Notably, Tchay is something of a perfectionist — just picking the right music for the video apparently took six months.
[ModRetro Forums via Destructoid]
McKinley Noble is a former GamePro staff editor, current technology nerd and eternal mixed martial arts enthusiast. He also likes Japanese sports dramas and soap operas. Follow him on Twitter or just Google his name.
Like this? You might also enjoy…
Get more GeekTech: Twitter – Facebook – RSS | Tip us off