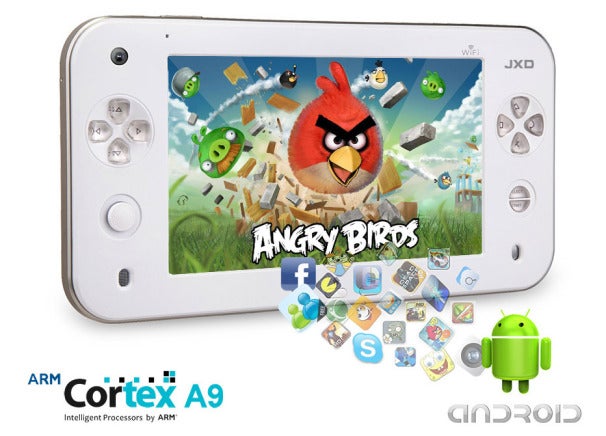 It's one thing to base your entire company's reputation off the wholesale infringement of popular gaming devices, but JinXing Digital decided to kick things up a notch. As spotted by the Gadgeteer, the Shenzhen-based group has officially released a tablet that manages to steal design notes and intellectual property from Apple, Sony, and Nintendo. Even crazier, the entire device sells for a paltry 140 dollars.
Marketed as a PC tablet mixed with a gaming console, the JXD S7100 has a smorgasbord of features that would send other tablet manufacturers into fits. Even though it only runs on Android 2.2, the tablet sports a 7-inch 800×480 touchscreen, 512MB RAM, 16GB of storage, 1080p HDMI-out connectivity, and USB support, with a 0.3 megapixel camera in the front and 2 megapixels in the back. JXD's S7100 also has multi-language menu support, so we have to assume that English-only speakers won't have too much trouble navigating the system's interface.
Phandroid notes that the processor and graphics specs may be the most impressive of all:
We've seen quite a few Android gaming handsets make their way out of China and while the JXD S7100 doesn't look much different, it's what this handset has on the inside that really caught our eye. Boasting specs more along the lines of a Galaxy S II device, the JXD offers almost the same processor with a dual-core Cortex A-9 processor and Mali 400 graphics core powering the device. This makes the JXD more than capable of most graphics intensive Android titles as long as they don't require anything over Android 2.2, which the device comes shipped with.
If some elements of the JXD S7100 look a bit… familiar, you're not seeing things. Although the majority of the tablet's shell is pretty standard, the directional pad and button layout is ripped wholesale from Sony's PlayStation devices, right down to the Triangle/Circle/Cross/Square button logos. As shown in the official product video (which includes background music from Justin Bieber's "Never Say Never" single), the JXD S7100 is also built with ROM-based gaming in mind.
Prominently displayed in both the demo reel and the main product page is gameplay footage of Super Mario 64, Metal Slug, King of Fighters '97, Mario Kart 64, Tomb Raider, and the hilariously mis-labed "Jump Super Stars," which is actually Super Smash Bros. All of these titles can be played on the tablet via the built-in software or an emulator, which opens the device up to ROM gaming. Where most companies wouldn't display that right on the product's sleeve due to the painfully obvious legal implications, JXD does prominently.
Although JXD's product page mostly focuses on the gaming aspects, the tablet's user interface attempts to streamline any other app-related needs with an "Apps Center" and a "Game Center" that house up to 48 icons in each category. JXD also notes that instant messaging, web browsing, and e-reader software are built-in and supported with the "capacitive five-points" touch panel. Considering the sheer number of gaming consoles that JXD has already mimicked, this latest one is the most brazenly impressive.
We're not sure if Apple, Nintendo, and Sony's legal departments are still on holiday break, but if you want to get your hands on a JXD S7100, the device is currently being sold at isharegifts.com and China Grabber, both in black and white color schemes.
[JXD via The Gadgeteer]
McKinley Noble is a former GamePro staff editor, current technology nerd and eternal mixed martial arts enthusiast. He also likes Japanese sports dramas and soap operas. Follow him on Twitter or just Google his name.
Like this? You might also enjoy…
Get more GeekTech: Twitter – Facebook – RSS | Tip us off