Folder Lock 7 is a jack-of-all-trades for file encryption and data security. Not only does it encrypt and hide volumes and folders with an on-the-fly 256-bit algorithm, it also protects USB drives and creates wallets to list and store important information such as bank accounts, online passwords, and such. The program goes even further with a secure erase (shred) function, data lockers (think Windows Briefcase), and the ability to run stealthily–that is, without any sign that it's operating.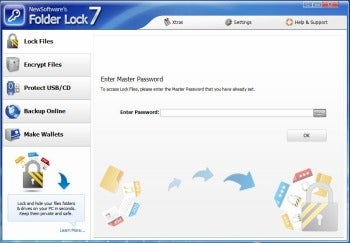 Version 7 of Folder Lock adds an optional online component to the mix, synching your data lockers to NewSoftwares' own storage service if you desire. The service is $5 per month for every 10GB, not the cheapest but relatively competitive. 10GB should be more than enough for only your secure data. Other neat features are login attempt tracking, and creating both normal and self-extracting password protected zip files. (PCWorld last reviewed Folder Lock at version 6.25).
The program couldn't be any easier to use, though the first time you lock and hide a folder it can be a bit shocking to go to a drive and see it locked, or to find a folder missing. Folder Lock keeps two services running, but didn't appear to impact performance at all. The program is completely password driven, so there are no certificates to lose as with Windows Bitlocker. There's a master password for the program, which you will need if you decide to uninstall it.
If I have any complaint at all about Folder Lock, it's about the look of the interface. While it's extremely well-designed in terms of workflow, placement of options, and navigation, it looks a little brash. A little more sedate and it might be easier to sell to business users, whom even as it is would be well served by taking a look.
Also, while the lockers are perfectly secure, be aware that the hidden files and folders are hidden only while Folder Lock is running. You may access them freely by simply booting from CD such as Ubuntu Live or Parted Magic.
It's not often I'm as impressed with a program as I am with Folder Lock. For $40, if fulfills basically every security need there is. A definite must download if you need to secure your files.
–Jon L. Jacobi