Intel's first system-on-chip, codenamed "Medfield," may outperform other chips designed for tablets and smartphones–at least according to performance numbers from the Caffeinemark 3 benchmark tool.
The system-on-chip (SoC) architecture allows Intel to pack everything–storage, RAM, and processor–on one chip, making it ideal for small, thin mobile devices. With Medfield, Intel is going up against the likes of Apple's A-Series, Nvidia's Tegra, Qualcomm's Snapdragon, and Texas Instruments' OMAP.
The 32nm Medfield chip still has a few weeks before it officially launches, but VR-Zone is reporting the first benchmark scores for the "Medfield Tablet Platform."
According to VR-Zone, the Medfield scores an impressive 10500 in Android benchmarking tool Caffeinemark 3. VR-Zone used a reference Android Honeycomb tablet with an x86 processing core running at 1.6GHz, 1GB of RAM, and built-in Wi-Fi, Bluetooth, and FM radio.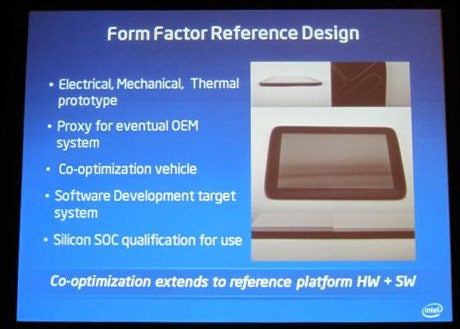 For comparison's sake, the Nvidia Tegra 2 scores a 7500, the Qualcomm Snapdragon MSM8260 scores 8000, and the Samsung Exynos scores 8500. Medfield's preliminary scores therefore suggest a great performance boost for smartphone and tablet users next year.
Of course, benchmarks don't tell the whole story, so we're still waiting for real-world performance "scores." But, so far, after much struggle to get chips into smartphones and tablets and a lot of work readying Medfield for Ice Cream Sandwich (Android 4.0), it looks like the Intel Medfield SoC may be a great chip to have in your future mobile device.
Follow Melanie Pinola (@melaniepinola) and Today@PCWorld on Twitter