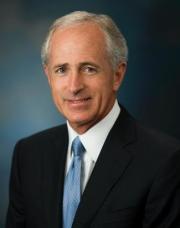 Reddit users, emboldened by their efforts to get Go Daddy to drop its support for the Stop Online Piracy Act, want to use their newfound political momentum to force a sitting senator out of office. The campaign, dubbed "Operation Cork Screw," hopes to oust Senator Bob Corker, one of 40 co-sponsors of the Protect IP Act, the Senate version of SOPA.
"Let's pick ONE Senator of [sic] voted for NDAA (National Defense Authorization Act)/SOPA and destroy him like we're going for GoDaddy," the Reddit thread that sparked the idea says. The Tennessee Republican, currently serving his first term, is up for reelection in 2012.
Users of the social news site are hoping to dig up enough negative information on the senator to turn public opinion against him during the upcoming election. The online activists may also campaign for Corker's eventual opponent. The movement against Corker has already created a website, Facebook page, and Twitter account to publicize its actions, as well as a wiki covering Corker' career in the Senate.
Group members are also using Reddit to drum up ideas on how to put their political ideals into action such as looking at Corker's campaign contributors and links to Corker's past news coverage. In addition to the more serious discussion threads, users are also offering some juvenile ideas such as playing dirty tricks on the senator's campaign and coming up with online viral memes to distribute their anti-Corker message. These ideas, however, have largely been ignored by the group.
There also seems to be some concern among the group's members about targeting a Republican, while not going after a Democrat who supported the Protect IP Act. The legislation was, after all, initially sponsored by Senator Patrick Leahy, a Democrat from Vermont.
Can they keep going?
It will be interesting to see what happens with this new online activist campaign. Reddit users may have been successful in helping to promote the idea of dumping Go Daddy as an online registrar among the more tech-savvy. But that action was relatively easy since the barrier to active protest was spending $10 or less to move your domain name away from an online registrar.
But active involvement in a political movement that hopes to unseat a sitting senator requires far more organization and momentum than just a few posts to an online forum. History may also compound the online activist's problems; Tennessee has not elected a Democrat to the Senate since Al Gore more than 20 years ago, according to USA Today.
Connect with Ian Paul (@ianpaul) on Twitter and Google+, and with Today@PCWorld on Twitter for the latest tech news and analysis.