Did Santa (a.k.a. the boss) bring you a new smartphone this year? Or maybe you decided to make the move from your trusty but aging BlackBerry to an Android phone or iPhone? Whatever the case, it's time to add extra "smart" by stocking your handset with some productivity-boosting business apps.
I've rounded up five of my favorites, all of them indispensable, all of them free.
If you use the Dropbox cloud-storage service, you must get its companion app. Available for Android and iOS, Dropbox lets you tap the cloud anywhere you go, providing fast and easy access to everything you've ever shared or stored: documents, photos, videos, presentations, and so on. In fact, you can stream videos you don't have room to store on your device.
The app works both ways, too: you can upload snapshots and videos from your device to your Dropbox folders. It works with both free and pro-level accounts.
Not to gush, but Evernote is like a personal assistant for your pocket. With it you can save receipts for later reconciling, capture a whiteboard diagram for future reference, record a voice note to share with your team, and, of course, take notes.
Everything you capture with Evernote gets synced to the Web, your PC, and any other mobile devices you have. Seriously, if there's a better productivity tool, I haven't found it. The apps are free of charge, as is the service itself (though there is a Pro version, natch).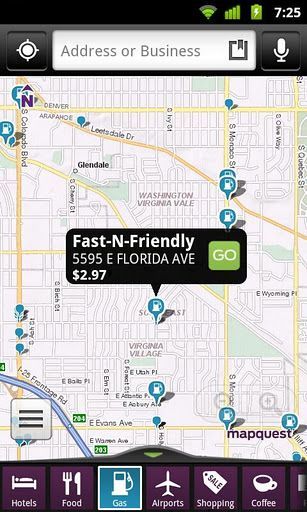 MapQuest
The stock Google Maps app is pretty good at giving you directions from point A to point B (especially on Android), but the MapQuest app raises the ante with with voice-guided, turn-by-turn directions–much like you'd get from a bona fide GPS.
It also offers automatic re-rerouting (in case you take a wrong turn), local-business search, and even live traffic updates. Before you spend $30 or more on a GPS app, take this freebie for a test-drive.
Need remote access to your PC? Look no further than TeamViewer. With it you gain total control over your PC–great for, say, grabbing a PowerPoint presentation from a thousand miles away, shutting down the PC you left running at the office, or just running a program you can't normally run on a phone.
TeamViewer can also save the day by letting you remotely troubleshoot an employee's PC, assuming you're the IT guy of the organization. It's hard to believe this app is free. Correction: TeamViewer is free only for personal use. If you plan to use it in a commercial setting, you'll need to purchase a license.
TripIt is a killer travel-management service that organizes your itineraries, reservations, and the like. It began life on the Web, but now, well, there's an app for that. With TripIt for Android and iOS, you can manage and share all your travel plans.
All you do is forward all travel-related confirmation e-mails (from airlines, hotels, car-rental outfits, etc.) to plans@tripit.com. The service culls all the pertinent details from those e-mails and builds detailed itineraries. The apps are free, as is the TripIt service.
Have you found a business app you can't live–or work–without? Tell me about it in the comments!