Well, here's an interesting new twist in our lawsuit-happy society: A blog is suing one of its former employees for leaving and "taking" their Twitter followers with him.
That's not as confusing as it sounds. Let me break it down for you: mobile phone retailer and blog PhoneDog is suing former blogger Noah Kravitz over his Twitter account.

You see, Kravitz originally began tweeting as @PhonedogNoah while employed by Phonedog. When Kravitz left the company in 2010, he took his Twitter account — which had 17,000 followers — with him, changing his Twitter handle from @PhonedogNoah to @NoahKravitz. Kravitz claims PhoneDog told him at the time that he could keep the Twitter account, as long as he posted about PhoneDog occasionally. Kravitz agreed because, he tells the New York Times, he and PhoneDog parted on "good terms."
Well, apparently "good terms" only last so long, because eight months later PhoneDog sued, saying that the Twitter follower list was considered a "customer list." PhoneDog is seeking damages of $2.50 per follower per month (for eight months), which amounts to about $340,000.
PhoneDog tells The New York Times that the "costs and resources invested by PhoneDog Media into growing its followers, fans, and general brand awareness through social media are substantial and are considered property of PhoneDog Media L.L.C." PhoneDog says it intends to "aggressively protect" its "customer lists and confidential information, intellectual property, trademark, and brands."
But the lawsuit itself is not what makes this story interesting. What's interesting is the question it raises about social media and the workplace — who really owns that Twitter account?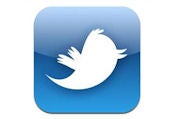 As The Times points out, the question gets more complicated when companies hire people specifically because of their social media clout — for example, iJustine working for Spike TV to cover CES, or Philip Berne internally reviewing Samsung phones. Do Spike or Samsung now own iJustine's and Berne's social media accounts? Or is that all kept personal? If you're an insanely popular Twitter user, should you be wary of companies that try to hire you for your social networking presence?
These are all questions that nobody seems to have the answers to right now. Kravitz believes that PhoneDog is suing him in retaliation for his claim to 15 percent of the site's ad revenue, and back pay related to his previous job. The case will go before a judge next month.
Follow Sarah on Twitter, Facebook, or Google+, and and Today @ PCWorld on Twitter.