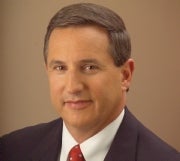 Details of allegations of sexual harassment that ultimately caused Mark Hurd, now co-president at Oracle, to quit as CEO of Hewlett-Packard are now plastered across the Internet after a letter written on behalf of the complainant was unsealed by the Delaware Supreme Court Wednesday.
The letter, sent by attorney Gloria Allred for former actress Jodie Fisher, who had been employed by HP on a contract basis to help with customer events, describes various meetings between the two where Hurd "would relentlessly attempt to cajole [Fisher] into having sex."
The letter became the subject of dispute when an HP stockholder, Ernesto Espinoza, filed a suit claiming that shareholders have the right to read the letter, as well as access to other material, as part of efforts to investigate the circumstances of Hurd's resignation.
Though the letter has not yet been made public in electronic records, media outlets including AllThingsD, an affiliate of the Wall Street Journal, obtained it and published it online.
The Delaware Supreme Court weighed in on the issue after a ruling by the state's Court of Chancery, allowing the letter to be made public, was appealed.
"We requested the court keep the letter confidential because, as Ms. Fisher has acknowledged, it is filled with inaccuracies," according to a media statement from Amy Wintersheimer, an employment attorney representing Hurd. "The truth is, there never was any sexual harassment, which HP's investigation confirmed, and there never was any sexual relationship, which Ms. Fisher has confirmed."
In fact, after Hurd and Fisher settled the harassment complaint, Fisher sent Hurd a letter saying that the initial letter sent by Allred had inaccuracies.
Neither Hurd nor Fisher claim they actually had sex, and Hurd was not ousted by HP for the relationship itself. However, after HP was notified of the harassment claim against Hurd, it investigated and found instances of inaccurate expense reports from Hurd meant to hide his relationship with Fisher, according to company officials. The evidence pointed to "a profound lack of judgment" by Hurd, according to Mike Holston, HP's general counsel at the time. The HP board concluded that Hurd could no longer be an effective leader, and Hurd stepped down in August 2010.
In its ruling, the Delaware Supreme Court said that "The Allred letter does not contain any nonpublic financial information, trade secrets, or other proprietary information."
The court also said that the letter does not contain any third-pay confidential information. The court concluded by saying that while "the letter goes into embarrassing detail about Hurd's behavior, it does not describe any intimate conversations or conduct."
Included in the letter are allegations that Hurd showed Fisher a balance of over a million dollars in an ATM receipt of a bank account in an attempt to impress her, and several instances where he kissed her despite her protests, including a time when he invited her to his hotel room to show her documents sent to him by a Chinese government official. In perhaps the most potentially serious allegation of corporate impropriety, the letter says that Hurd told Fisher about HP's negotiations to buy IT services company EDS before the talks were made public.