To quote LL Cool J, "Don't call it a comeback." Yes, Internet Explorer has been consistently shedding market share to rival browsers — primarily Google Chrome — but that is part of a calculated risk by Microsoft, and 2012 could be the year the tide turns.
According to stats from Net Applications, Internet Explorer lost nearly seven percentage points of market share in 2011, finishing the year precariously close to falling below 50 percent in the near future. However, during that same timeframe, Internet Explorer 9 jumped nearly 11 percentage points, an important trend for Microsoft.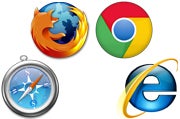 When you look at the big picture, Internet Explorer definitely lost market share in 2011, Firefox was down, but relatively steady, and Chrome jumped by just under eight percentage points to finish 2011 at 19.11 percent. Essentially, Chrome ate up the market share that was lost by Internet Explorer and Firefox.
That is obviously good news for Chrome, and that trend may even continue for a while. But, if you look at the underlying browser versions, and the driving force behind the migration from Internet Explorer to Chrome, the trend will likely reverse course as Windows 7 continues to supplant Windows XP.
Microsoft made a decision to draw a line in the sand, and make its current flagship browser compatible only with the more current versions of the Windows desktop operating system — Windows Vista, and Windows 7. At the same time, Microsoft has engaged in an aggressive campaign to kill the archaic Internet Explorer 6.
When you combine these two points, you have a scenario where many users who rely on IE6 are taking the hint to abandon the legacy browser, but don't have the option of switching to Internet Explorer 9 because they are still using Windows XP. Granted, they can switch to Internet Explorer 8 – which would be preferable to Microsoft – but, many figure they may as well get the latest version of something if they're going to bother switching at all, and that narrows the options to the current version of Firefox or Chrome.
But, Windows 7 continues to climb — and with it Internet Explorer 9. It was a bit of a gamble for Microsoft to bet on the future by making IE9 incompatible with Windows XP, but based on the fact that IE9 gained four more percentage points than Internet Explorer as a whole lost, it seems the gamble is working.
According to Microsoft's Roger Capriotti, IE9 is doing phenomenal when viewed through a Windows 7 lens. It has passed both Chrome and Firefox on Windows 7, and trails only Internet Explorer 8. It is on track to pass IE8, and when Windows 8 and Internet Explorer 10 hit the street, that trend will continue.
As Windows 7 steals share from Windows XP, IE9 will continue to gain market share, and it will take Internet Explorer as a whole with it — reversing the downward slide and rebounding IE market share in 2012.