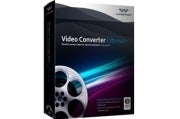 Wondershare Video Converter Ultimate ($66 direct, as of February 1, 2012) is a lot more than its name implies. Yes, it converts video, and it does so quickly and capably to a multitude of formats. But it also rips DVDs, records and downloads online video, and even edits and processes video with special effects. It's more a video toolbox than a simple converter.
Video Converter Ultimate handled every test video file I possess–including some rarer types such as Real Media and Ogg Theora. (With every other video converter I've tried, I've had to insert a "nearly" or some other qualifier in that statement.) The program provides handy conversion templates for a host of specific handheld devices, such as iPhones, iPads, Android phones, and even my HTC HD7, which runs Windows Phone 7–a mobile operating system that other packages often ignore. As with other programs of this ilk, you simply select the target playback device, and the software generates the appropriately sized output. It also supports outputting video optimized for social sites such as Facebook and YouTube, but the program doesn't facilitate uploading the video for you.
Editing in Video Converter Ultimate is surprisingly simple. It offers a basic trim editor, but it also provides a post-processor that allows you to add effects such as grayscale, negative, or an old-film look. If you wish, you can perform freehand crops, rotate, watermark the video, and add subtitling. Everything I edited and converted in Video Converter Ultimate worked perfectly: I encountered no missing key frames, redraw issues, or crashes. The program uses AMD, Nvidia, or Intel GPU acceleration if it's present.
Video Converter Ultimate will rip your DRM videos to nonprotected versions, but this feature works only if you have the original tokens for the video involved. It works via Windows Media Player's DRM support. It will also capture Web videos with audio from YouTube and the like, though it isn't as easy to use in that respect as browser plug-ins like Video DownloadHelper in Firefox.
Alas, in my tests Video Converter Ultimate took a misstep in the most unlikely of places–with the long-established technology of DVD. Wondershare understandably doesn't play it up, but the program rips protected DVDs. However, in my hands-on trials, DVD playback stuttered noticeably, and more unfortunately, so did converted output. Wondershare was unable to replicate this behavior, or provide a fix.
Wondershare is a powerful if slightly pricey video converter and light video editor, and it performs its core tasks very well. The DVD playback and ripping glitch is a puzzler, but that isn't part of the program's core functionality anyway–and according to the company, the feature should work.
–Jon L. Jacobi