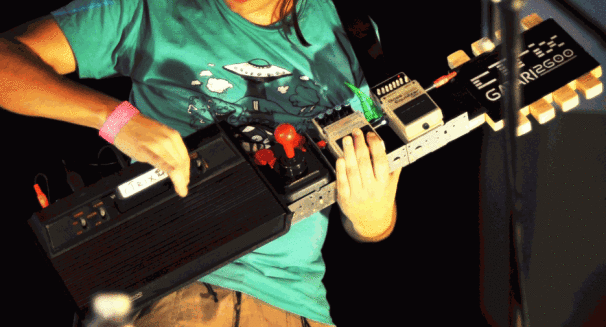 It's already looking like a bold, bright new year for homebrew gadgetry, as Australian modder "cTrix" shows off the improbable-looking gATARI2600. As seen on Joystiq, the Atari 2600 console combines with stompboxes, a joystick track-switcher and a fretboard, using pre-programmed daughterboards to play chiptunes with a bit more visual flair than a simple mixing table. It's one of the more impressive projects among cTrix's line of music-mixing equipment, which includes an LDSJ Game Boy kit, a Commodore 64 setup, and even Amiga consoles.
Before playing a set on the gATARI, "cTrix" uses his custom-written EPROM sequencing software to script the music before plugging it into the instrument. Once the music is running, the guitar can be used to boost the base, layer sound files, and control pitch with whammy effects. As shown in this breakdown and concert video footage, the combination makes for a great live show.
For aspiring programmers, cTrix also threw together a short tutorial video showcasing his Atari 2600 ASM translator, and how his custom software compiles the audio files.
The "gAtari" was my excuse to do something a little silly after I discovered that the Atari 2600 was more limiting than I realized! (31 pitches, minimal waveforms and only 2 channels!) I needed an EQ which could take a high voltage and drop it down to line level (Boss bass EQ) plus a way to hold loops between tracks and parts (Boss delay). So rather than have it "DJ" style config, I thought I make something a little more creative.
If you want to see cTrix's technical expertise live, his main webpage has a list of his future touring dates, which currently includes Blip Fest Australia 2012. Some of his music is also available for purchase, both in digital and physical format, although you're currently out of luck if you want his latest two collections — SB #2 Limited Ed is only available at live shows, while USB Limited Edition is sold out. Other tracks and project updates can also be seen on his Facebook page.
[Debug Live via Joystiq]
McKinley Noble is a former GamePro staff editor, current technology nerd and eternal mixed martial arts enthusiast. He also likes Japanese sports dramas and soap operas. Follow him on Twitter or just Google his name.
Like this? You might also enjoy…
Get more GeekTech: Twitter – Facebook – RSS | Tip us off