When it comes to PC case mods, Jeffrey Stephenson is kind of a big deal. Aside from frequent showcases at the Consumer Electronics Show (CES), the talented designer has also won awards from competitions sponsored by Lenovo, Intel, and UK publication bit-tech.net, which has doled out five awards to Stephenson in the last few years alone. His latest project, the Aerodyne, gathers elements from his past projects and combines them into a functional, sleek looking PC tower — but as Boing Boing notes, only a few of them will be available to an interested investor.
Built from aluminum plating, a sturdy mahogany finish, and various amounts of carefully-cut lumber, the Aerodyne project started off when Stephenson received a Mini-ITX form factor motherboard, courtesy of VIA Technologies celebrating the gadget's 10 anniversary. Over the course of more than a month, Stephenson documented the complex process of building a suitable PC shell for the device. As a result, the finished project came together as a fully functional tower, with the designer's trademark "straight-up slap you in the face Art Deco" trimmings, an Intel i3 CPU, 8GB RAM and a 256GB solid state drive.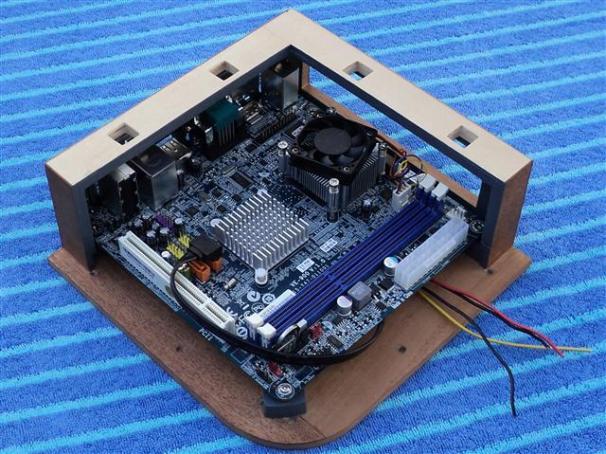 Notably, Stephenson had to implement a few tricks to get the case to fit the smaller dimensions. Since the idea was to build a "compact" PC case, the entire thing is fan-less, save the CPU fan on the motherboard. Luckily, the entire thing doesn't overheat since the small design is complemented by a great deal of open plating and panels. As good as it looks, the prototype was beset by some minor cable issues, although we'd like to think the creator is nitpicking. Either way, the fully finished model looks ripe for production.
The connector in the back is the DC jack. It is my biggest design flaw (so far). I wanted it to be mounted at the bottom so that the cable wouldn't be flapping in the wind at the top. Internal interference from my mounting system forced the compromise. I consider it acceptable for a prototype and the reason why you build prototypes.
Photos of the entire prototype-building sequence can be seen over at Stephenson's Facebook gallery and the bit-tech.net forums. Also, you can check out the rest of his projects at his official website. With Aerodyne completed and ready for display, anyone present at CES should expect to see this somewhere on the show floor, drawing plenty of attention for the eye-catching craftsmanship — and if you want to take one home, you should probably have a checkbook or your Las Vegas money clip.
[Jeffrey Stephenson Design, bit-tech.net via Boing Boing]
McKinley Noble is a former GamePro staff editor, current technology nerd and eternal mixed martial arts enthusiast. He also likes Japanese sports dramas and soap operas. Follow him on Twitter or just Google his name.
Like this? You might also enjoy…
Get more GeekTech: Twitter – Facebook – RSS | Tip us off