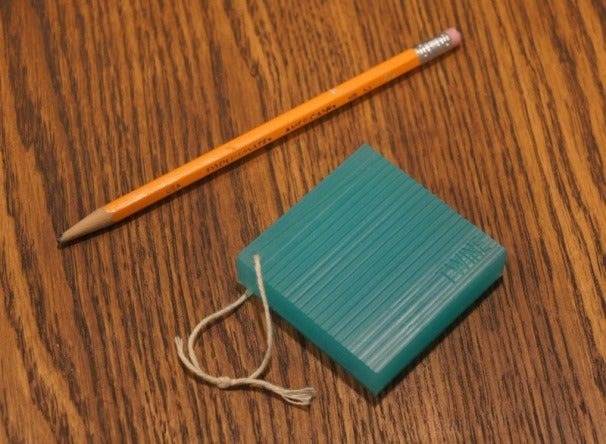 Supermechanical's Twine is just barely out of its fundraising stage, and the intriguing little gadget managed to raise over $500,000 in pledged donations. Considering that frontmen John Kestner and David Carr were only asking for $35,000 at the start of their Kickstarter run, that's a staggering case of demand outweighing initial supply. If anything, that just shows the appeal of "do-it-yourself programming that does the actual code for you."
At first glance, Twine is little more than a block of plastic that looks like a bar of soap. But hiding underneath the cube's exterior is a variety of sensors that can feed back to a custom application through Wi-Fi, telling your computer when to perform certain tasks. For example, if you're using it as a home protection device, you can program Twine to text your smartphone when the built-in accelerometer feels movement on your apartment floor.
It's probably perfect for roommate situations, too. If you want to know when someone's using your Xbox 360 without asking, just leave the Twine on your console. Or maybe you're just not sure if you left the oven on. It's a good thing Twine has a built-in temperature sensor, because now you can get back home and save the kitchen (or your Xbox) from burning up. As shown in the video below, there's quite a few handy ways to use the wireless gadget — it comes with the aforementioned temperature sensor and accelerometer, with the following optional extras.
Magnetic switch — for detecting random objects
Moisture sensor — for the unwelcome presence (or lack) of water
Breakout board — for anything else you want to plug into the Twine, provided it's supported
Infrared sensor — for detecting people and ranged movement
And if you don't know how to program the Twine, it's OK — you don't need to. Supermechanical's "Spool" application automates a lot of the tasks for you, giving you a set list of triggers, rules, and guidelines that allow the Twine to react accordingly in specific situations. But if you just happen to be tech savvy, you can set up your own HTTP script in addition to texts, e-mails, and Twitter alerts.
If you didn't get in on the Kickstarter bandwagon yet, you're probably going to have to wait a while for your Twine kit. Only pre-orders and back orders are being filled right now, with an additional IR sensor under development by the Supermechanical crew. For those who were bold enough to give the developers so much money, the team's Twitter feed says there's a new poll to decide on the next Twine sensor accessory.
Backers, sensor poll #2 is up. Current (detect power consumption, device on/off), extreme temp (cooking), smoke/CO alarm interface, humidity
Originally, Kestner and Carr pledged to create one new sensor accessory for every $10,000 pledged to their Kickstarter fund. Judging by the final numbers, their team is going to be busy for the rest of the year. We're not sure that we could even think of 10 different and original ideas for the Twine, much less 50 of them.
[Twine via Kickstarter]
McKinley Noble is a former GamePro staff editor, current technology nerd and eternal mixed martial arts enthusiast. He also likes Japanese sports dramas and soap operas. Follow him on Twitter or just Google his name.
Like this? You might also enjoy…
Get more GeekTech: Twitter – Facebook – RSS | Tip us off