I frequently get email from frustrated readers needing tech help. Occasionally their dilemmas are interesting enough to cover here in Hassle-Free Tech (see "Reader Q&A: Gmail Without Web Access, Too Much Security" for my last roundup). This week I try to help Greg, who is in turn trying to help his in-laws with a big problem. Also this week: I review Iobit's Advanced SystemCare 5 Free, which promises to clean out your Windows system and get it running faster.
Windows Freezes at Login Screen: Hardware Problem or Windows Problem?
Reader Greg is trying to help his in-laws solve a pretty major laptop problem: "When it powers on, it comes to the login page and freezes. The mouse won't move and I can't type in anything into the password field. The disk access looks busy, which I know is typical when a PC starts, but even after it eventually slows down, neither the mouse nor keys will work. I tried firing it up in the various Safe Modes but the results are the same."
Greg also notes that he tried a system-recovery disk he created on a different system, but had no luck with that, either.
Problems like this can be difficult to diagnose. The fact that you're "locked out" even when booting into Safe Mode suggests there might be some kind of hardware failure, but because it sounds like the boot process is running its course in the background, there might be something else afoot.
Here's my suggestion: try Linux. Specifically, load any "live" version of the Linux operating system onto a flash drive, then boot from that drive. (Lincoln Spector explains how in Boot Linux From a Portable USB Drive with Universal USB Installer.)
This is a pretty cool trick, because it effectively turns your PC into a Linux system without making any permanent changes to it. The entire OS is contained on the flash drive, and it runs from the flash drive, thereby leaving your Windows programs and data alone.
That said, assuming you're able to boot successfully, you'll be able to access any data stored on the hard drive, meaning you now have a rescue option. You could, for example, copy important files back to the flash drive, or upload them to the cloud for later retrieval.
The key here is to boot Linux and see if the system works. If it does, then there's probably some corrupted Windows driver or system file that's leaving you stuck at the login screen. Given that your system-restore and -repair efforts failed, you may have no choice but to wipe the drive and reinstall Windows. That's not fun, but in my experience it solves 99 percent of problems–and makes slowpoke PCs run much faster.
If Linux doesn't work–you still can't control anything with the mouse and keyboard–then you're almost certainly dealing with a hardware issue. Now it's time to look at your repair options. My advice: find a local shop, explain the steps you've tried, and see what they advise. Of course, if the system is still under warranty, start with the manufacturer.
Optimize Your PC with Advanced SystemCare 5 Free
Proceed with caution.
That's what I always advise when people ask me about PC-optimization utilities like Ashampoo WinOptimizer 8 ($50) and CCleaner (free). While these tools can be helpful, they can also create problems–usually when users go overboard with the amount of "cleaning" they attempt.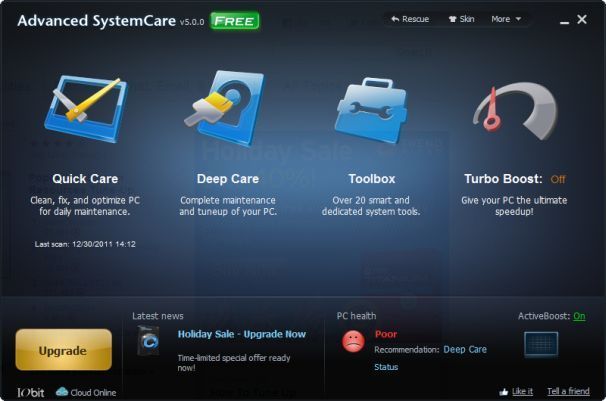 I mention this only for purposes of introduction to Iobit's Advanced SystemCare 5 Free, the latest version of one of the more popular "computer healthcare" products. I recently tested it on a year-old Windows 7 system, and was very pleased with the results.
(One important note right up front: Advanced SystemCare will try to sneak in a few bits of junkware during installation, so be sure you opt out–don't just blindly click Next on each setup screen.)
The program can perform a wide range of functions, starting with the handy Quick Care, which scans for and removes malware, cleans up the Registry, fixes invalid shortcuts, erases your browsing history, and deletes junk files.
When I ran Quick Care on my system, it discovered a surprising amount of detritus–including some spyware that Microsoft Security Essentials (my primary sentry) had missed! Within a few minutes, all that stuff was gone.
Advanced SystemCare 5 also has a Deep Care that lives up to its name, performing more comprehensive security and Registry scans and looking for ways to optimize startup and other areas of your PC.
Thankfully, the program sets restore points before making any changes, so if you run into trouble, a quick visit to the Rescue Center should get you back in business.
I particularly like the ActiveBoost option, which promises real-time system optimization via intelligent management of system resources. The results can be hard to gauge, but I do feel like my machine is a bit snappier with ActiveBoost running.
One option you might want to avoid, however, is Turbo Boost, which terminates "unnecessary" system services to further improve performance. Some of these include things like networking and media sharing–which are not items I would call unnecessary. My advice: skip this feature.
As I noted earlier, Advanced SystemCare 5 is just one of many available tune-up tools. But I like the fairly friendly interface, comprehensive toolset, and, most importantly, end results. If your PC is more than, say, a year old and feeling sluggish, this might be of some help. You definitely can't argue with the price.
If you've got a hassle that needs solving, send it my way. I can't promise a response, but I'll definitely read every e-mail I get–and do my best to address at least some of them in the PCWorld Hassle-Free PC blog. My 411: hasslefree@pcworld.com. You can also sign up to have the Hassle-Free PC newsletter e-mailed to you each week.