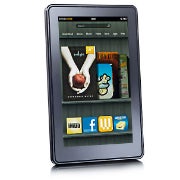 As many as two million fewer iPads were sold this holiday season because of Amazon's Kindle Fire tablet, according to one analyst.
Selling at $199, compared to $499 for the lowest priced iPad, the Kindle Fire sold more than four million units during December alone.
Overall, sales growth for the iPad during the holidays was off the mark, according to Morgan Keegan analyst Tavis McCourt. In a research note, he estimated that Apple sold 13 million iPads during the final quarter of the year, which bested its sales record for the device set in the previous quarter, 11.2 million, but fell short of McCourt's prediction of 16 million in holiday sales.
Kindle Fire sales trimmed iPad sales during the holiday period by "at most" one to two million units, the analyst estimated, according to Forbes.
While iPad sales growth missed McCourt's mark, he remained optimistic about Apple's fortunes during the coming months. "In sum, we believe December will turn out to be another great quarter for Apple with share gains in Mac and iPhone product lines, and continued strong growth in iPad, although slightly slower than we originally anticipated," he wrote.
He also expects Apple to show strong growth this year with the introduction of a new iPad in the spring and a new iPhone in the fall. If Apple introduces a TV this year, that will be gravy on its growth, he added.
He acknowledged, however, there would be some bumps in the growth picture, especially in the March to June period. Apple did so well during that timeframe last year, he explained, year-to-year comparisons may be "challenging" for the company.
McCourt also reported that iPhone sales during the holiday quarter to be 29 million, compared to his previous estimate of 27 million. The iPhone represented 47.5 percent of Apple's revenues for the period, compared to 39.1 percent a year ago.
Follow freelance technology writer John P. Mello Jr. and Today@PCWorld on Twitter.