The browser arena is often portrayed as a three-horse race among Chrome, Firefox, and Internet Explorer, but there's now a new option that aims to give users the best of all three worlds.
It's called Avant Browser, and its latest build offers Windows users what it calls "tri-core rendering," giving them a choice of using the Internet Explorer, Firefox, or Chrome rendering engine for any particular Web page.
Sound intriguing? I think so, too. Here's a rundown of what you'll find in the latest Avant Browser 2012.
Different Purposes, Different Engines
Avant Browser has actually been around for years, and it's long been described as a close and speedy sibling of Microsoft's Internet Explorer.
With the newest build of its 2012 version, however–officially announced today–the browser has evolved into this new tri-core configuration, offering Web surfers a whole new level of control.
Users can assign different browser engines for different kinds of websites, and Avant will automatically switch to the right one for each kind of page they visit. A user could choose to use the Chrome engine for online banking websites, for example, while selecting the Firefox engine for FTP websites, say. Then, when navigating from an online banking site to a FTP one, Avant will automatically switch the browser engine from Chrome to Firefox.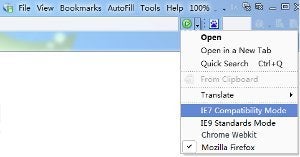 A Free Download
Also included in this latest release of Avant Browser 2012 is the option to log in automatically to any sites using the AutoFill feature upon startup, as well as "stay on top" floating tabs to keep interactive Web-based applications in the foreground.
With its "video sniffer" feature, meanwhile, Avant can quickly find and download videos from the pages users visit.
This latest tri-core version of Avant Browser is still in its very early stages–it's called the Avant Browser Ultimate 2012 pre-alpha 103–and so of course is not intended for production use. Users should have at least Windows XP and Internet Explorer 7.0 or newer. The browser uses Firefox 9.0.1 and Chrome 17.0.963.12, but the Chrome engine is still a test version, the software's maker says.
Still, if you're as eager for a taste of this tri-core rendering capability as I am, it's available for free download from the project's site. This will be an interesting one to test out.