It's bad enough that you have to spend your Sunday with the phone wedged between your shoulder and ear, as you root through your computer's control settings or tangle with a mess of serpentine cables behind your home entertainment system, because something isn't working. Having to pay for help just makes matters worse.
In that regard, things are looking up. More and more companies, including Microsoft and Crutchfield, now offer free or inexpensive help to resolve many of your gadget dilemmas. The chart below identifies some of the features offered by three free or low-cost tech-help services: Costco Concierge Services, Crutchfield, and Microsoft Answer Desk.
Microsoft Answer Desk
In early December 2011, Microsoft quietly launched Answer Desk, an online tech support center that provides free help to customers dealing with basic Microsoft software malfunctions, and offers in-depth help for a fee. The company's move may have come in response to Apple, which offers free in-store support for basic problems, and priority support for a yearly fee.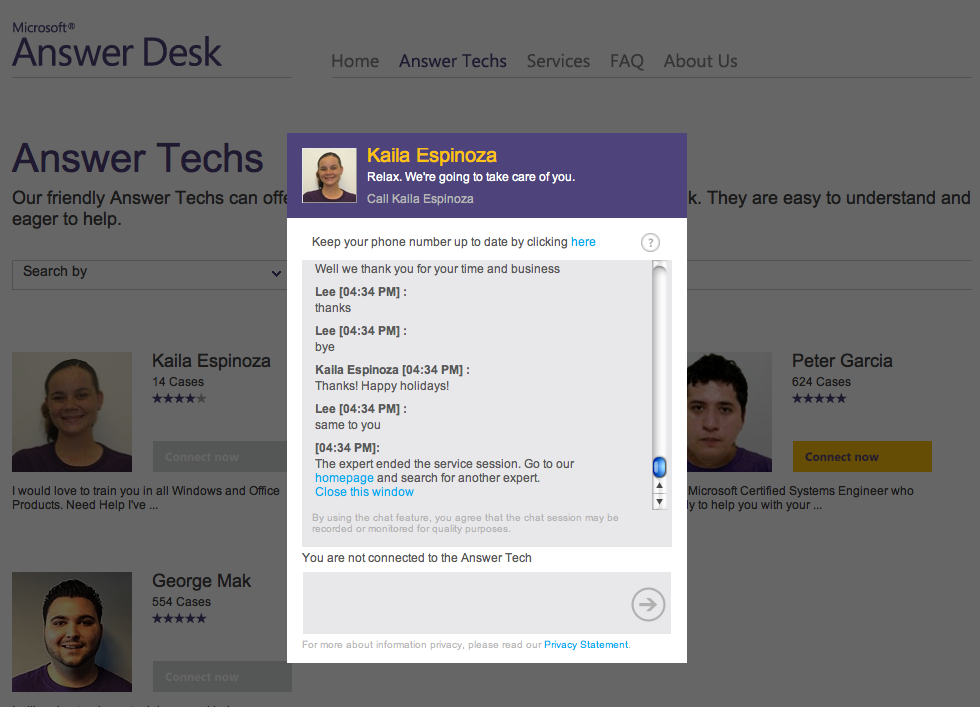 If you're having a problem with Excel, or if your version of Windows isn't behaving as it should, Microsoft has technicians standing by to help you out at no charge. Answer Desk staff can assist you over the phone or via a custom Web chat service. Support is available around the clock to anyone with a Hotmail account, which is free and easy to create.
Answer Desk's free service is available only for dealing with simple problems involving a Windows product. For more-complex issues, you'll have to pull out your credit card.
In a series of informal trials, I asked for advice on buying a Windows phone, setting up Entourage (the Apple-only Microsoft Office email and calendar client), and finding some toolbars that had gone AWOL in my version of Word.
The technician I spoke to about Entourage seemed happy to ditch me with a link to a relevant FAQ page, but my other two support agents were very patient and helpful.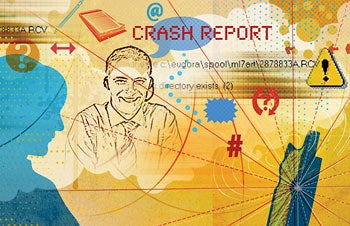 Microsoft aims to make the whole experience seem personal. Each of its technicians has a profile picture, a personal page that can be bookmarked, and a Yelp-like star rating. Some even speak multiple languages. If you find a technician who is particularly helpful, you can search for and request that person in the future, by name or by ID number.
Answer Desk's premium services, ranging in price from $49 to $99, buy you anywhere from one hour to two hours of "one-on-one" time with a tech. The rep will help you optimize your PC's performance, root out and eliminate viruses, or get more out of your Windows products. If you and the tech can't figure out a particular problem via chat or over the phone, Answer Desk staff can access your computer remotely.
These services are, in part, an answer to Apple's One to One service, which makes various technical support and learning tools available to customers online and in Apple stores for $99 a year.
Crutchfield
Not only does this home and auto electronics depot offer its customers free lifetime technical support, but it sells relatively inexpensive tech-support packages to people who have purchased stereos, TVs, or MP3 players elsewhere.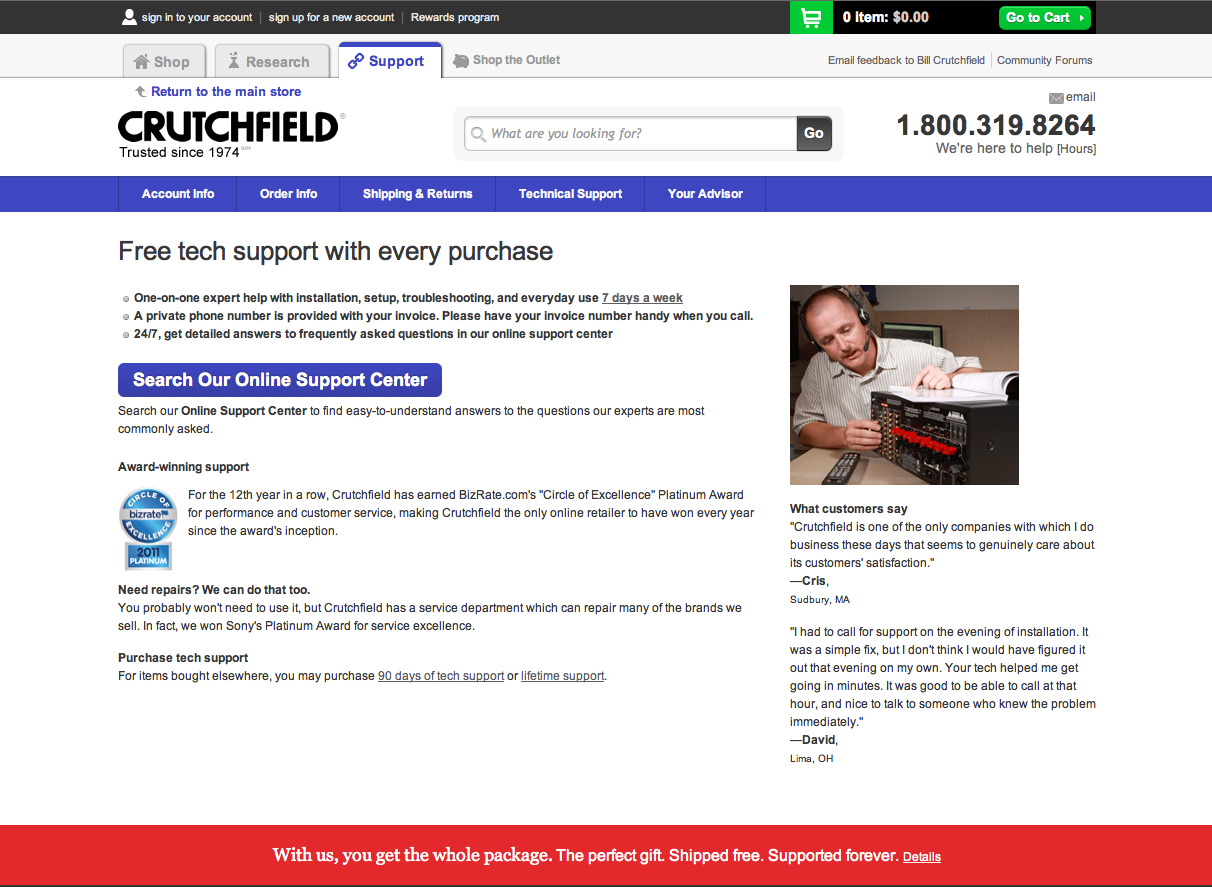 Crutchfield does not sell or offer tech support for desktop PCs, laptops, or operating systems. But according to Shawn Lyons, tech support manager for the company, its technicians are prepared to help customers with just about any other electronic device, including car stereos, home entertainment systems, wireless networks, and iPods. "If I can find a manual for it online somewhere, then odds are we can help you," Lyons says.
Like Microsoft's Answer Desk, Crutchfield support is available 24/7. Unlike that service's help, however, Crutchfield's is available only by phone.
The company's two support packages–90-day ($30) and lifetime ($100)–are sold on a per-product basis. So, assistance you buy for your TV isn't transferrable to a router on the fritz. If you're skeptical about whether Crutchfield can help you with a given problem, you might still want to give them a try at the $30 level. According to Lyons, if a tech is unable to provide adequate support, you'll receive a full refund.
Lyons says that all of the company's techs go through an eight-week, hands-on training course. And Crutchfield encourages its techs to develop specialties. That way, if a customer calls with a question that one tech can't answer, someone else on duty probably can.
Don't count on these guys to help you mod any of your electronics, though. Crutchfield's techs are there to help with setup, configuration, and troubleshooting only.
Costco Concierge Sevices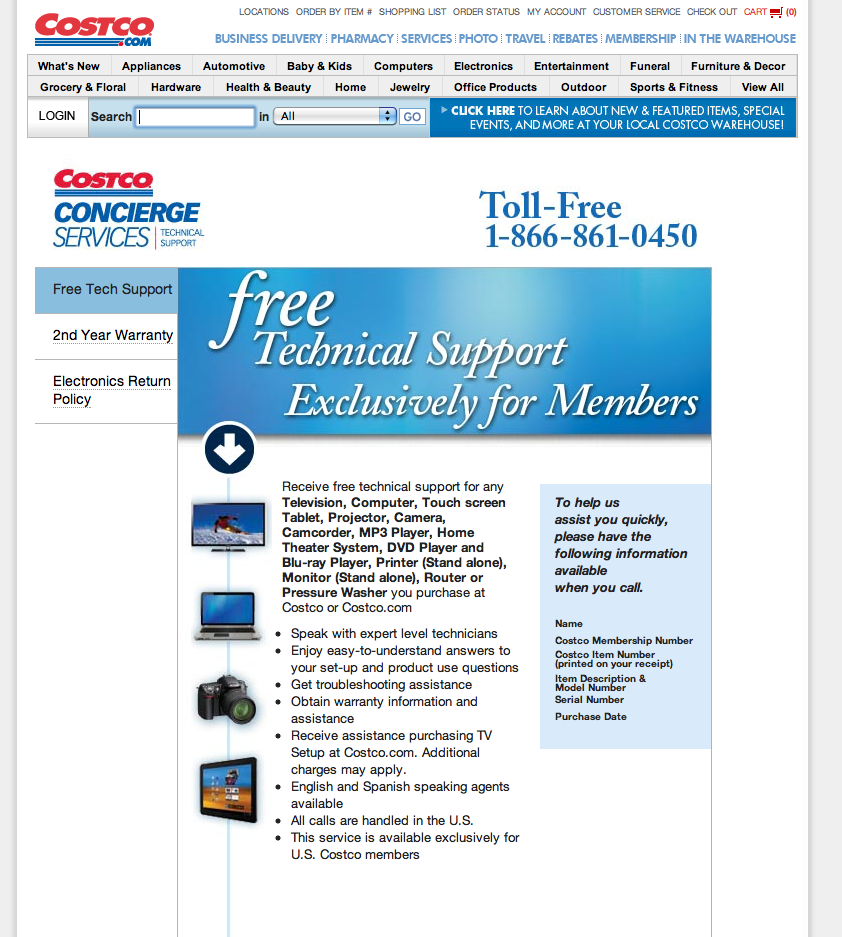 The warehouse retailer offers technical support for a wide range of electronics products purchased from Costco either online or at one of its brick-and-mortar locations.
Costco's Concierge Services technical support can help guide customers through setup, product use, and troubleshooting questions regarding TVs, computers, tablets, projectors, cameras, MP3 players, home theater systems, printers, routers–and even pressure washers.
Like Crutchfield's, Costco's tech support is available only over the phone; but unlike both Answer Desk and Crutchfield, representatives are not available around the clock. Costco's tech support runs daily from 8:00 a.m. to 1:00 a.m. Eastern Time.
PCWorld How-To's
Of course, consumers with an independent streak can always try Google, YouTube, online forums, and the How-To section of PCWorld.com, where you'll find a library of tips and tricks that we've compiled to help you navigate the digital world.