At a Glance
Expert's Rating
Pros
Incredibly fast dual-core processor
720p display
Beats Audio built-in
Cons
Preloaded with bloatware
Terrible battery life
Our Verdict
If you can deal with subpar battery life, the HTC Rezound is an excellent phone that won't feel outdated anytime soon.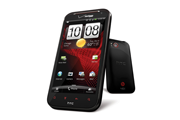 The HTC Rezound ($300 with a new two-year contract as of January 3, 2012) is one of the more capable devices released in the past year. With beefy specs, including a 1.5GHz dual-core Snapdragon processor and Verizon LTE 4G connectivity, the Rezound holds its own against other Verizon smartphones.
Design
With a 4.3-inch, 1280-by-720-resolution super LCD screen, the Rezound is definitely on the larger side. Although the phone may not fit in everyone's pocket, the roomy display is great for watching movies and playing games. At 6 ounces, the Rezound can feel a bit hefty, but that weight also makes the phone feel rock solid.
Like most other HTC phones, the Rezound has a straightforward design. On the front of the device are the four standard Android navigation buttons (Home, Menu, Back, and Search), as well as a 2-megapixel front-facing camera. The back of the Rezound sports an 8-megapixel camera with dual-LED flash, and it has a soft rubber surface that feels nice in the hand. The volume rocker and power button sit flush with the rest of the phone, giving it a very streamlined look, but also making them somewhat difficult to press. Buttons aside, the Rezound is still very well designed.
Specs and Performance
When it comes to specs, the Rezound is a beast. The dual-core 1.5GHz Snapdragon processor keeps the phone feeling zippy and is great for running graphics-intensive games such as Grand Theft Auto 3 and Dead Space. Unfortunately all that power comes with a price: The Rezound's battery life is less than optimal. After I spent 3 hours playing games, browsing the Web, and downloading apps over LTE, our fully charged test Rezound had only 30 percent of the battery remaining. The Rezound has several different modes to help regulate power consumption; if you are a heavy apps user, however, you will want to invest in an extended battery pack. We will update this section once we put the Rezound through our official battery tests.
The high-resolution display looks great, but it sometimes lagged when I pressed a button or swiped between home screens. This usually occurred after I exited an app, but it didn't happen enough to be a nuisance.
The Rezound takes advantage of Verizon's blazing LTE network. Here in San Francisco, I was able to download several hundred megabytes' worth of data in only a few short minutes over a strong connection. Using the FCC-approved Ookla Speed Test app, I clocked download speeds of around 11.55 megabits per second, and upload speeds of about 10.38 mbps. Call quality was even, with no hiss or static. The people I called said that I came through clearly, and that they couldn't hear any background noises in my call.
Software
The Rezound runs HTC Sense over Android 2.3 (Gingerbread) and comes with a handful of preloaded software. The Amazon Kindle app, Blockbuster Mobile, Polaris Office, and Slacker Radio all come preinstalled, along with the full version of Need for Speed Hot Pursuit and a demo of Let's Golf 2. While some of these apps may be useful and entertaining, it's a shame that you have no option to uninstall any of them should you not want them cluttering your phone.
The HTC Sense overlay runs well on the Rezound, and brings along a few features that are missing from stock Gingerbread. The lock screen allows you to launch applications quickly without having to unlock your phone first, and the notification bar contains a list of recently opened applications for easier multitasking. The Rezound is slated to receive Android 4.0 (Ice Cream Sandwich) sometime later this year; it will be interesting to see how Sense interacts with the new OS.
Entertainment
If you like to use your smartphone as a media player, you will be interested to learn that the Rezound has built-in Beats Audio for better listening. When you plug in Beats Audio-compatible headphones, the Beats Audio software will enable itself and will supposedly "enhance" the audio.
In my tests, I concluded that the Beats Audio software does make music sound better when enabled–but only because normal playback sounds muffled and murky. You'll want to keep the Beats Audio software enabled whenever you listen to music on the Rezound. If you don't happen to have Beats-compatible headphones already, try the pair that HTC has graciously included along with the phone. Although they aren't the best headphones ever, they do a better job than most headphones you find prepackaged with phones these days.
The HD episode of Doctor Who that I watched on the Rezound looked excellent, and streaming video over LTE worked flawlessly. As I mentioned earlier, the Rezound's robust processor makes it awesome for games, and a few hours of playing Dead Space on the Rezound certainly made my daily commute enjoyable.
Camera
The 8-megapixel camera on the Rezound is decent enough for everyday photos, but performs poorly in dimly lit environments. In areas with good lighting, colors can look washed out, and objects can sometimes have a reddish tint. The front-facing camera offers good image quality, but you most likely won't use it for anything besides a few self-portraits.
The Rezound is capable of recording in 1080p, and it did well at picking up audio. It produced a mild jelly-like effect when recording in 1080p, but the result wasn't the worst that I've seen. Something that I must commend HTC on is the amount of options available in the camera software: You can fine-tune various aspects for better photos, including sharpness, saturation, and exposure, and the Rezound even features a panorama mode that makes it extremely easy to capture panoramic images.
Bottom Line
The HTC Rezound is one of the best phones available in terms of specs, and it's perfect for media junkies who like to use their smartphone as a multimedia player. The high-resolution display is well suited for movies, and the included Beats Audio headphones are a much-appreciated bonus. The battery life is weak, however, so you will want to buy an extended battery or carry a charger around just in case.
Now for the hard part: choosing between the Rezound and the Samsung Galaxy Nexus. Both are excellent devices, but the decision comes down to what you are looking for in a phone. If you want a phone that is always up-to-date with the latest software, go with the Galaxy Nexus. If you value specs more and can wait a few months for Ice Cream Sandwich, the Rezound will suit you just fine.